People were left scratching their heads in Belfast this week as a critical shared pedestrian/cycling crossing in the city centre was taken over by road works.
https://twitter.com/stevenpatt99/status/839961204902727681
The controlled crossing at the two-lane, one-way turn from Donegall Quay onto Queen Elizabeth Bridge has become an important city link since Sustrans pushed for Road Service (now TransportNI) to build one despite the view that demand was "unproven".
Some people were optimistic that it was part of an adjacent future cycleway scheme, currently finishing consultation:
https://twitter.com/davitgilmore/status/839981807282073600
But the reality couldn't be farther from the growing aim to prioritise walking and cycling in central Belfast.
Only dawning on me now: looks like the belt-loosening 3rd turn lane onto bridge promised under City Quays planning.. https://t.co/Ws38dP2viZ

— NI Greenways (@nigreenways) March 10, 2017
The works seem to be a classic case of trying to tackle congestion through adding capacity for vehicles – like seeing the solution to a growing waistline as simply loosening your belt.
A little-known planning condition of the ongoing City Quays project within Belfast Harbour is the cause of the works.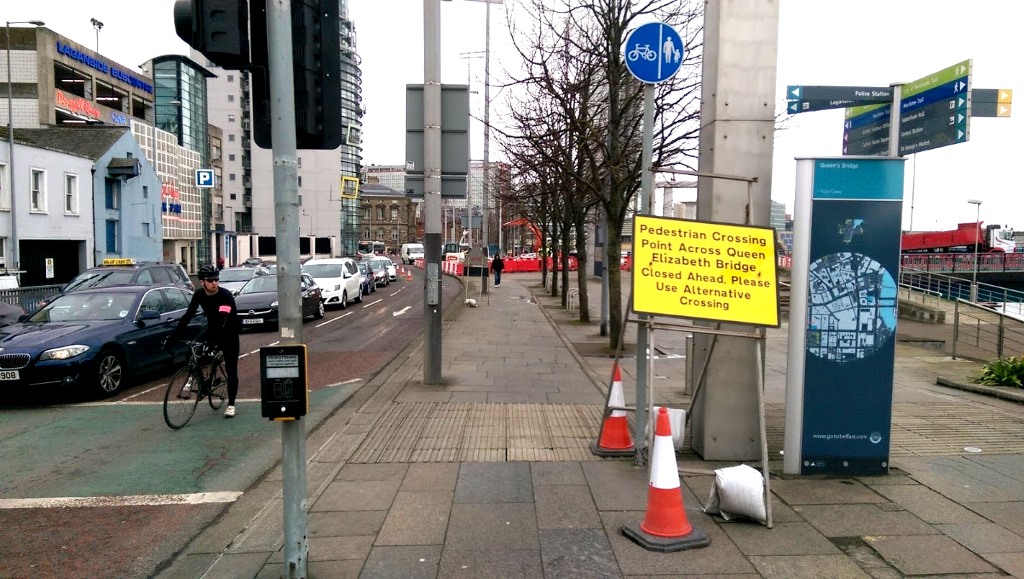 City Quays is an ambitious scheme for a mixed-use regeneration of 20 acres of land on the north-west bank of the Belfast Harbour estate, broadly speaking from the M3 motorway bridge to Clarendon Docks.
Some recent aerial pictures from city quays #Belfast #riverlagan #Construction #Engineering #drone #dronephotography #harbour #Titanic pic.twitter.com/e6deWBbMft

— PointProDroneService (@PointProDrone) November 1, 2016
City Quays 1 opened in March 2015 while the nine-storey £20m City Quays 2 is under construction and expected to become operational this year.
And herein lies the reason for the road works here, half a kilometre away from the development.
"The development hereby permitted shall not become operational until … road works on the lane re-alignment and remarking on Albert Square/Donegall Quay/Queen Elizabeth Bridge .. have been provided[.]

REASON: To ensure that the road works considered necessary to provide a proper, safe and convenient means of access to the development are carried out."
City Quays 2 Planning Report (Conditions) 02 Oct 2016 [Planning Portal]
So what exactly is this lane re-alignment being carried out by contractors right now? Here is the scheme drawing from the Planning Portal website.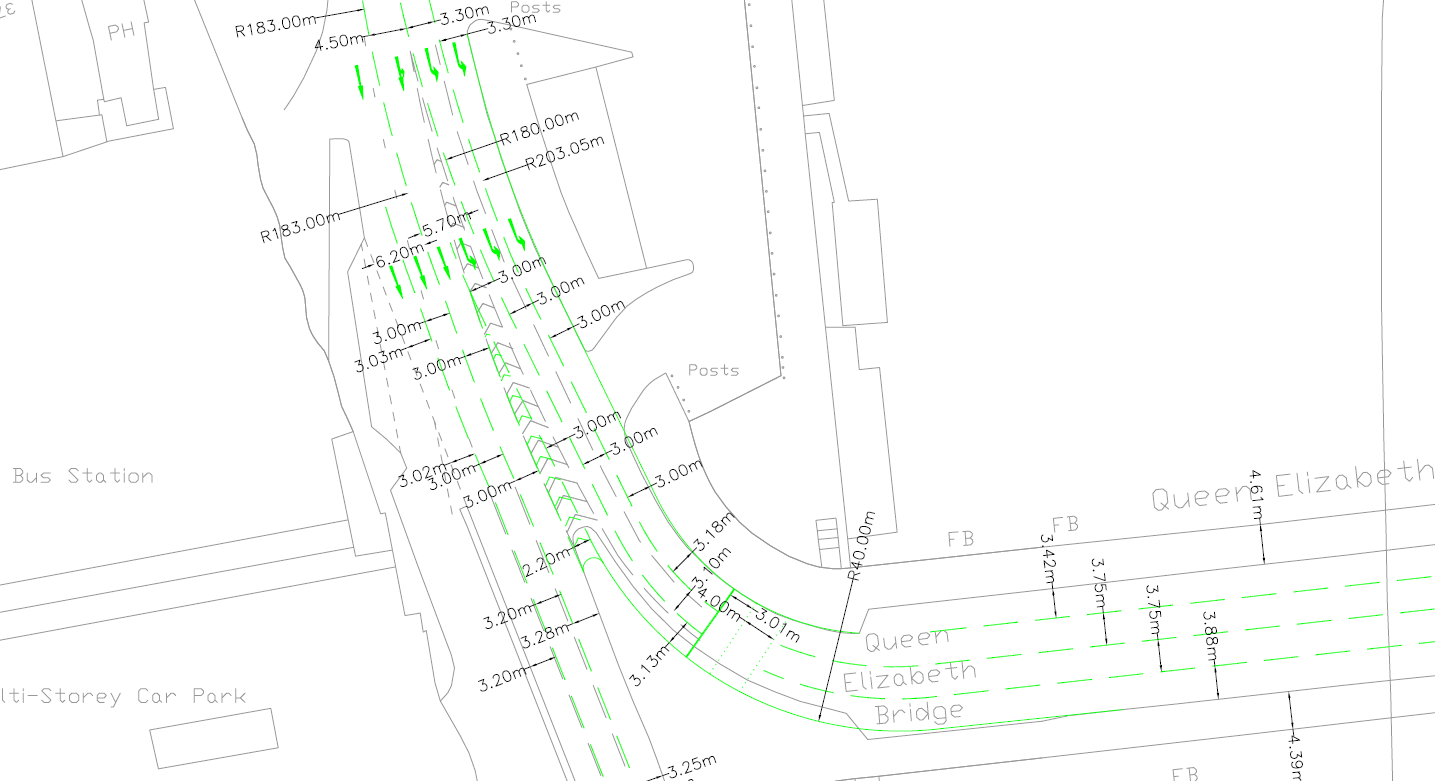 At present there are two traffic lanes sweeping round and expanding onto the Queen Elizabeth Bridge's four lanes. The plan is to widen the turn to three lanes. Here's a colour-adjusted zoom of the reworked turn.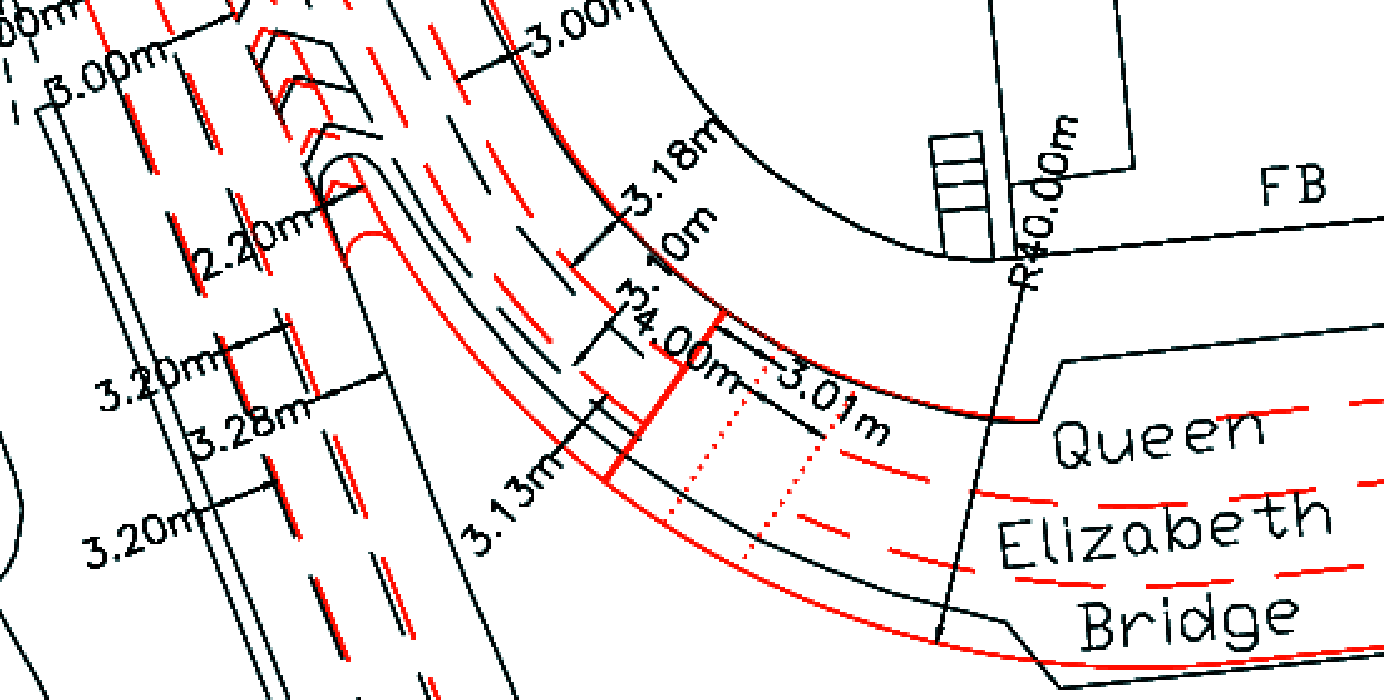 It's designed to improve vehicle flow around the area, within additional capacity to access the bridge, in parallel to the considerable traffic continuing south towards Oxford Street and The Markets.
"As the proposed development is within the city centre and has excellent pedestrian, cycling and public transport facilities serving the proposed development site it is not anticipated that there will be a high demand associated for the private car."
City Quays Phase 2 Transportation Statement, Dec 2013 [Planning Portal]
Despite this, the level of development – with City Quays 2 bringing the whole site over 100,000sqft – has triggered this requirement for external highway works under planning conditions.
But how much extra vehicle traffic is due to be created by the City Quays project?
"The modal split proposed for the City Quays series of developments is predicated on an extremely ambitious shift to sustainable transport."
Charles Dickinson, Development Control, Transport NI [Planning Portal]
An estimate of pre-development transport around the City Quays site, using data from 14 surrounding wards, placed private car use at 50.2%. The City Quays developers had a much more optimistic and progressive vision for the additional trips they would generate.
 Just one out of six users of City Quays 1 and 2 are expected to use private cars to access the site. The area is served by excellent cycling, pedestrian and public transport facilities:
---
Cycling
The north/south axis of the National Cycle Network runs right through the City Quays site, (with a segregated cycleway down Donegall Quay) and the city's first Department for Infrastructure cycleway is being constructed across the footprint of the road works, through High Street and over to Middlepath Street. Belfast Bikes stations sit at the Harbour Comissioner's Office and Custom House/ The Big Fish.
Pedestrians
Pedestrian links are excellent with the recently upgraded Laganside pathway running from City Quays 1 to the (also recently upgraded) Lagan Weir, while the traffic-calmed Cathedral Quarter offers a direct dander into the city centre core.
Public transport
Not only is the Laganside Bus Centre right beside these road works, with its Ulsterbus routes offering excellent links far beyond Belfast, Metro services and future Bus Rapid Transit to the east of the city flow through Custom House Square. York Street Railway Station is a short walk to the north, however plans exist to add a new Donegall Quay Railway Station on the Dargan Bridge should the track be dualled – right on the doorstep of City Quays.
---
Which is all to say, you'd struggle to find a major development in Belfast with less reliance on the private motor car, or to justify road widening.
"Alternative modes of transport have been considered with a view to enhancing the attractiveness of public transport, walking and cycling and outline the restrictions imposed to curtail the use of private cars."
City Quays Phase 2 Transportation Statement, Dec 2013 (Planning Portal)
Is adding capacity to the surrounding road network going to curtail the use of private cars?
The ongoing work at Queen Elizabeth Bridge isn't the only road capacity upgrade resulting from City Quays. Currently one lane of traffic emerges from Donegall Quay, giving way to three lanes of traffic as it rounds Albert Square.
Planning documents show that this junction will be redesigned to increase capacity and peak flow. At the neck of the junction vehicles from Donegall Quay will be provided with an extra lane – the left hand lane being free-flow into the near side lane in front of Custom House. At the junction the right hand lane will still give way to Albert Square traffic.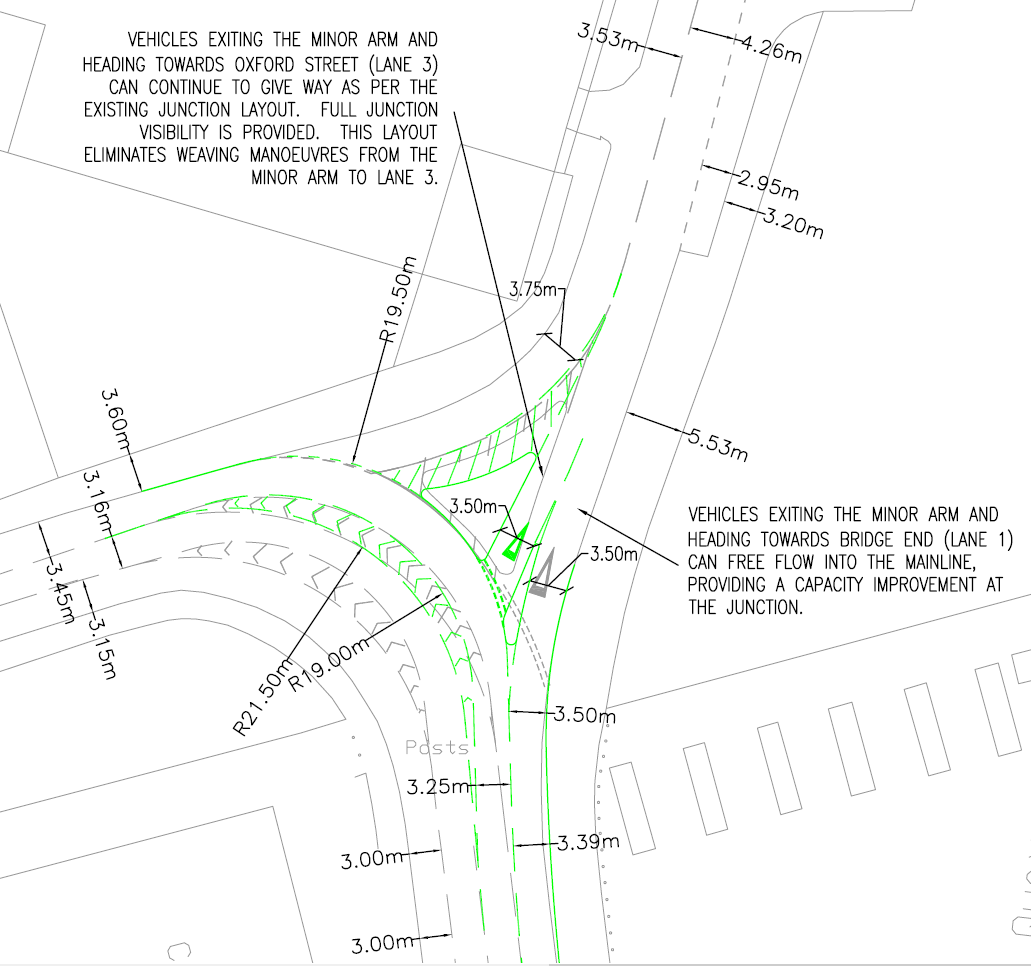 The free-flow element is clearly designed to address the queues of vehicles which accumulate in the evening rush, observable from the usually free-flowing National Cycle Network right beside it.
City Quays will continue through to Phase 4, along with other hotel and retail developments, but the impact on vehicle traffic in the area may take another major hit in the near future.
"A separate planning application is also in the works for a 900-space multi-storey car park required to support the City Quays development."
Belfast Telegraph, Oct 24 2016
The works at Donegall Quay / Queen Elizabeth Bridge are due to complete on Friday 5th May. The pedestrian crossing will return, although now with three lanes for users to negotiate rather than two.

But will the project accidently encourage pedestrians to get back into their private cars?
---
Comment
Honestly, I can't give a full analysis of the rights and wrongs of these road "improvements" – it's too far after the fact and no argument would make a difference to the outcome – it's happening.
On one hand, improvements to peak flow on city streets designed to move vehicles quickly to/from a destination are crucial – it deters rat-running through streets and areas which aren't suitable for high volume / speed traffic. Not every road improvement benefitting vehicles needs to be seen in a negative light.
Having said that, for a scheme which claims in its planning conditions to have a traffic model skewed heavily towards active travel and public transport, it seems counterintuitive to be significantly upgrading vehicle capacity nearby.
Two Belfast roads in UK's top 10 most congested https://t.co/46BBmt3AVt

— QUB Planning School (@PlanQUB) February 20, 2017
Congestion is a reality in Belfast because too many people drive cars. Making the car more attractive by improving road conditions typically ends up encouraging more people to drive. Belt-loosening schemes to tackle congestion end up in a daft feedback loop of induced demand, until the belt needs to be loosened again.
Some would say Belfast has no spare buckle holes left on its belt.
This week: @getupbeat warns that the Pros from Dover will crack open Belfast's chest if we don't tackle congestion https://t.co/6tJcMtUMqG

— NI Greenways (@nigreenways) March 5, 2017
No doubt the City Quays project will increase movement to and from the area and this will cause strain on the road network – especially if we continue as a city to make car travel the most attractive option by smoothing the flow at key pinch points.
You get what you build for!
Another great illustration of #induceddemand
via @bjornstenberg @GuSv01
Illustration: André-Philippe Côté pic.twitter.com/s8y0Up0C1f

— 21st Century City (@urbanthoughts11) March 9, 2017
Although I've trawled the Planning Portal on the topic (I need a new hobby) I can't find a reference to Sustrans or any other active travel group being sought out for their input – I'll correct that impression if it's not the case (and the "Road Service Cycling Officer" does not count).
Obviously the planning system is designed for anyone to get involved, but this one (major) development is having knock-on effects in terms of the balance of travel priorities in Belfast, so getting expert outside opinion and suggestions (which may challenge assumptions) should be a bare minimum requirement.
Reducing Belfast congestion levels would justify a front-loading of cycling infra expenditure now, not over 10 years https://t.co/cfOL8dcOLY

— NI Greenways (@nigreenways) March 3, 2017
It certainly scuppers (for now) any notion of utilising the fourth lane on Queen Elizabeth Bridge to create better cycling journey options to support the Middlepath Street cycleway scheme.
Those cycling into Belfast looking to access the south of the city will (lawfully) cross the road on both sides of the bridge, or (probably unlawfully) use the southern bridge footway – and this will post risks to pedestrian users. Either way, a vehicle capacity improvement has trumped active travel.
It is just about conceivable to resurrect the bridge cycleway plan – although the new third lane sweeps round onto the right-hand (fourth) lane of the bridge, it is conceivable to tighten the turn to align the lanes with the three left hand bridge lanes.
However another competing possibility may also get in the way – a dedicated Bus Rapid Transit lane for the route which will service Titanic Quarter from 2018 may claim the left-most bridge lane, ruling out additional cycling space.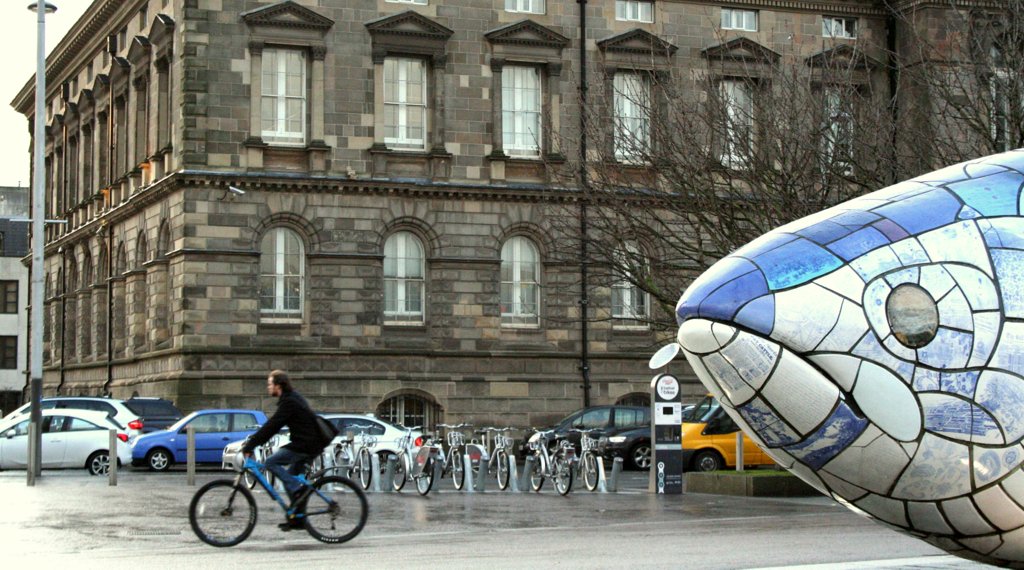 Volunteer work makes it tough to keep your finger on the pulse across an entire city, never mind a country. The discussions and planning for this scheme took place mostly before Bikefast's time, but they were missed on our watch. If Sustrans wasn't invited to be involved, it would speak to a cultural blind spot within the developments' stakeholders, especially Road Service – a blind spot that we hope has disappeared in the TransportNI era.
Would the same call on a purely vehicle-capacity project inside Belfast city centre be made today? I don't know.