Shop By Bike Belfast
An independent survey has shown that people in Belfast are finding it difficult to shop at their local supermarket by bicycle.
The Shop By Bike Belfast 2018-19 survey of 74 supermarkets across Belfast has shown that while there are a total of 171 bicycle racks provided, a disappointing 45% of stores (33) have no bicycle parking facilities at all.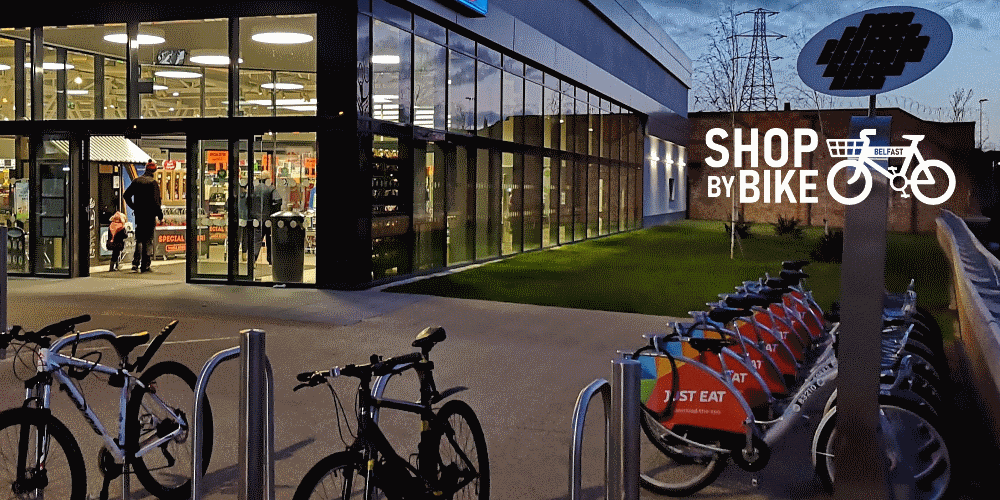 The Shop By Bike Belfast survey is devised and coordinated by Bikefast and was carried out by 20 volunteer supermarket customers over the latter part of 2018-19.
The rapid growth of "basket-only" and "self-scan" areas shows the importance of quick, convenience-seeking passing trade to Belfast's biggest supermarket stores. Some stores have made recent investments to attract more customers by bicycle – since our trial survey in 2015 there has been an almost 20% increase in bicycle parking at the 40 stores which are covered in both surveys.
Data from the Department for Infrastructure shows that people cite "no secure facilities to park bike at destination" as a barrier to short cycling journeys, while the Northern Ireland Bicycle Strategy says that "retailers and the business community have a significant role to play in facilitating and encouraging others to travel by bicycle – to make it possible for people to access local and town centre shops using the bicycle."
To see the winners of Best overall brand, Best store location, Best shopping centre* (new for 2018-19) and the full ranking list of all 74 supermarkets surveyed in Belfast, you can download the Shop By Bike Belfast 2018-19 report (PDF, 2.75MB).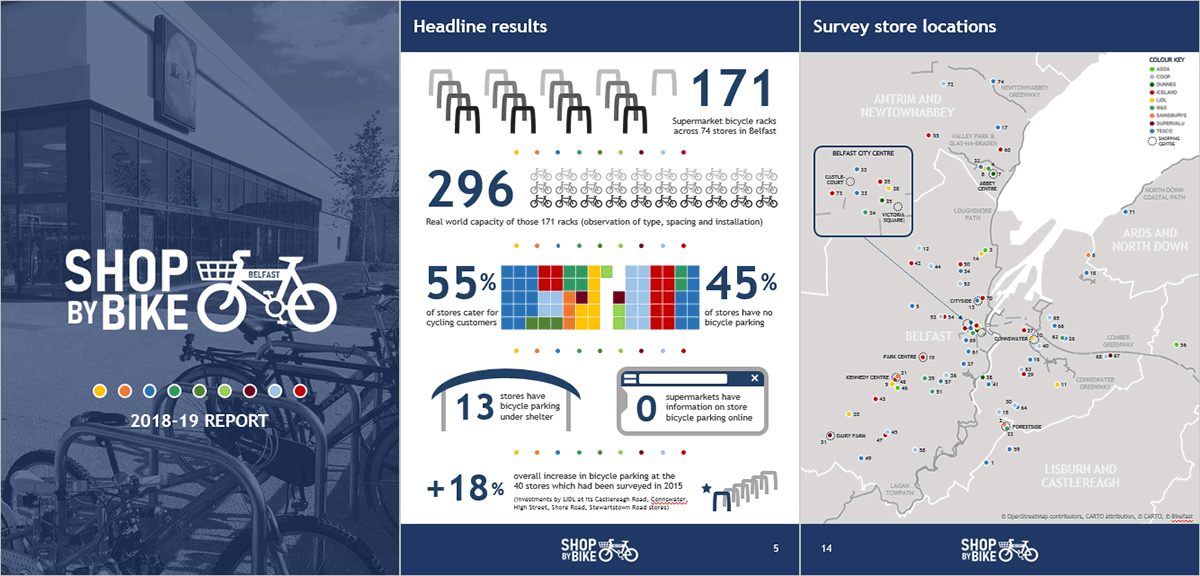 Why supermarkets?
Making Belfast work as a city in which the bicycle is a viable and attractive everyday tool for transport relies on a lot of things. Safe infrastructure, direct routes, convenience, practicality being a few – and having somewhere safe and secure to park your bike is critical. Supermarkets might be perceived as a destination only for the weekly 'big shop' which needs motorised transport, but in Belfast more than a third of households have no access to a car.
They're also typically big national or international chains with robust turnovers and the ability to invest quickly in such an easy area of customer care. Many supermarkets in our city have oceans of car parking space, of which just a fraction needs to be used to score highly against the Shop By Bike Belfast survey criteria. Even the smaller stores, which don't have ample car parking, should be trying to maximise opportunities to attract customers in other ways.
We take this top-down approach concentrating on supermarkets because the spatial opportunities and resources of our local corner shops aren't on a par.
But you could easily repeat this survey for most types of publicly accessible building..
What's different this time?
The 2015 survey concentrated on 40 of Belfast's main grocery chain supermarkets – ASDA, DUNNES, ICELAND, LIDL, M&S, SAINSBURY'S and TESCO. This time we expanded into smaller stores to widen the survey to 74 supermarket and convenience stores across Belfast and the immediate bounding settlements of Newtownabbey and Holywood. This brought COOP and SUPERVALU into scope and the smaller convenience locations of the big chains eg TESCO Express.
We're still giving a bye-ball to the convenience chains, franchises and independents such as CENTRA, COSTCUTTER, MACE, NISA, TODAY'S, VIVO, SPAR, RUSSELL'S and stores based in petrol stations – but may revisit these in 2020 if resources permit.
(For those based elsewhere in these isles, Belfast doesn't have well-known store brands such as ALDI, LONDIS, MORRISONS, WAITROSE, or even BREATHNACH'S BARGAIN'S (hi Tallaght!).
What's our scoring criteria?
Similar to last time we gave marks for each of the following criteria:
Any bicycle parking at all – the bare minimum
Single figures – more than one bicycle rack, but less than 10
Double figures – a store planning for a glut of cycling customers
Good quality racks – sturdy and secure, not flimsy or wheel-bending
Sheltered racks – trolleys mostly get a roof, do cycling customers?
CCTV coverage – is there a visible active deterrent to theft?
Proximity to store entrance – how convenient are you making cycle parking?
Additional services – going the extra mile, eg lock hire, repair station etc
Website listing* – is there location-specific information on the cycle parking facilities (new for 2018-19)
So each store gets a score out of 9, with tiebreakers being:
the number of racks – added as a decimal, eg a store with 6 points and 5 racks scores 6.05 overall
descending count back on the nine criteria, eg good quality racks counts higher than additional services
proximity to a dedicated cycle route counting negatively, eg if two stores have identical facilities but one is located on a greenway route and the other is 3km from the closest route, the nearer store should be doing better for cycling
Is Shop By Bike transferable to my city?
We think so. The criteria is simple and objective, all it takes is a definitive list of locations you want to survey, some volunteers and a little talent with a spreadsheet. Get in touch and we can help to point you in the right direction.