The Department of Infrastructure (DfI) made a shocking, behind-closed-doors decision to allow all taxis into Belfast bus lanes from Monday 20th February. This is being pitched as a "trial" for 12 weeks, ostensibly to gather data before Bus Rapid Transit is introduced, but is feared will be the foot in the door for a permanent arrangement at the end of the 84 day trial.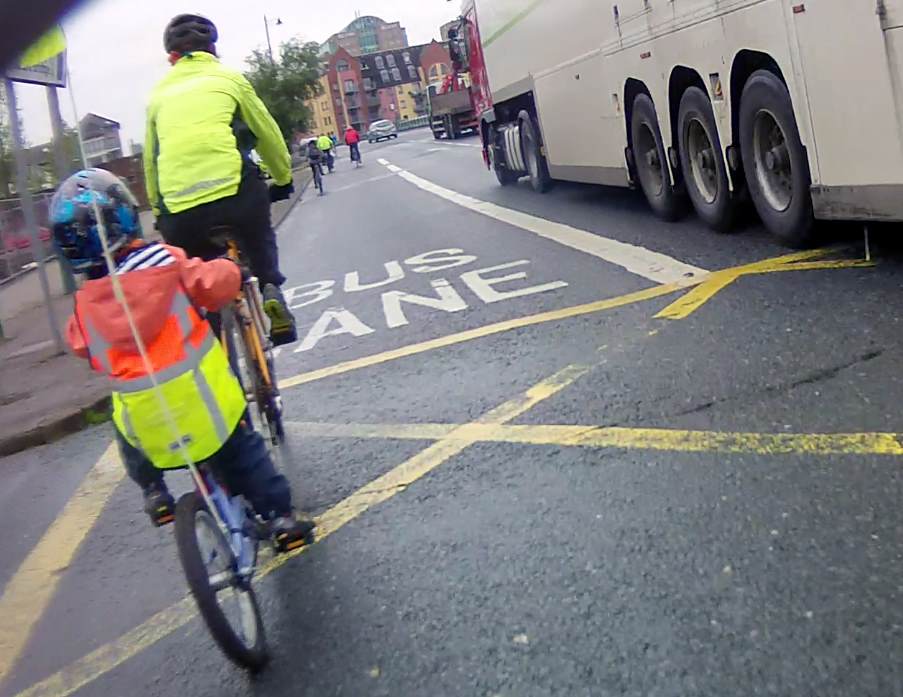 Those who cycle in the city are disgusted at the lack of consultation, safety assessment or a guarantee that bus lanes will return to normal in May. Minister Chris Hazzard is not for turning away from this radically-anti-cycling and pro-private-car policy, so we have to survive the next 12 weeks.
Here are are some initial tips to keep you right -we'll be updating it with your suggestions and tips as they come in:
Please don't stop cycling
A devastating effect on cycling levels is the big public health and congestion fear.
The vast majority of taxi drivers are professional, safe, courteous. They want to go about their business while looking out for the safety every other user of the road.
A small minority (as with general drivers, cyclists etc) are a hazard to life and limb – termed as "four wheeled bandits" as this Value Cabs driver openly agreed to:
Of course there is. I've seen some awful driving from taxis just as I've seen suicidal moves from cyclists.

— Driver 13 Value Cabs (@val_dr13) February 19, 2017
So let's be very clear – DfI have put those of us who are used to cycling in calm, quiet bus lanes in harm's way. This is a social experiment to see how bad bus journey times will be and how many extra collisions and incidents will affect cyclists and cycling levels.
It's a trial with only downsides for existing users of bus lanes.
Don't keep incidents to yourself
So you must report everything. I mean everything. Any dangerous incident involving a taxi driver in a bus lane including, but not limited to:
Following too close
Intimidation (blaring horn, flashing lights, revving engine)
Close passes
Brake testing
Verbal threats
Collisions of any sort
If you do not report this type of incident, then DfI will not be aware of it when making a decision on future access arrangements.
Responsible taxi drivers and taxi firm owners no doubt would want to see this type of behaviour stamped out, so we expect their support.
You should also report ANY incident of a taxi using a bus lane not involved in the trial. The full list of bus lanes involved is on the DfI website, but this handy map of the Bus Rapid Transit routes will keep you right.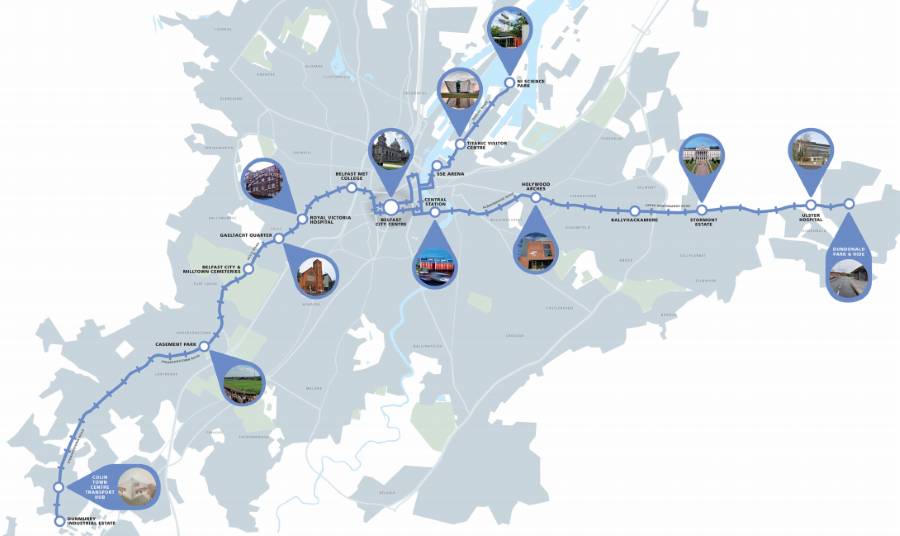 Public knowledge of the trial is woefully lacking, as shown by the NI Direct site which (as of 20th February) still doesn't reference the trial or how to report problems with the trial.
These handy guides on what to do if you are involved in a cycling collision apply to England and Wales, but provide an excellent set of important things to remember:
Who to contact to report incidents
Here's the key advice from the PSNI:
If you see an example of poor driving behaviour on the road, don't be tempted to react or try to deal with yourself.
Too often a mistake on the road can escalate into a "road rage" incident that helps nobody.
So keep calm, try to note the following and call 101:
Location, date and time
Registration mark (VRM) of the vehicle involved
Any description of the driver
Did anyone else witness the incident?
Can you note their VRM?
What exactly happened?
Consider are you happy to make a statement or would you be content with having the other driver spoken to?
If you can, take some photos (with location services enabled to GPS / time stamp it) – if there's another cyclists who can act as a witness to what happened, get their contact details – just call 101 and pass it all on.
Since this trial is being conducted by TransportNI under DfI, it's important to log details with them too. So far, no word has come down on whether a dedicated reporting channel will be made available, so for the meantime use the Eastern Division's contact details:
TransportNI Eastern Division
Phone: 

0300 200 7893

Email: traffic.eastern@infrastructure-ni.gov.uk
Twitter: @deptinfra
Record and publicise your incident on social media – if you are tweeting tag @deptinfra and @nigreenways, if on Facebook tag @belfastbikefast.
Learn your primary position
One of the most frightening aspects of the taxis in bus lanes trial is the remarkable attitude of one taxi boss, William McCausland.
Fonacab boss William McCausland said some of his drivers had read comments online where cyclists said they would deliberately ride slowly and in the middle of the bus lane.

"All of our drivers are competent and able to negotiate around a cyclist with no issue," he said. "We recently sent a memo around our drivers to remind them to be mindful of cyclists – but sometimes the cyclists need to be more careful too; this aggression doesn't help anyone."

Belfast Telegraph 18th February 2017
He has form in this regard, as seen in this quote from 2012 on the possibility of taxis in bus lanes back then:
"The taxis aren't nearly as large as the buses, so their ability to manoeuvre around the cyclists is going to be much simpler."
Vehicular cycling is a coping mechanism, and we need it in spades for the duration of the trial. This is not aggression, this is best practice. It ensures a taxi driver cannot attempt to skim past you within the bus lane, which is against Highway Code guidance.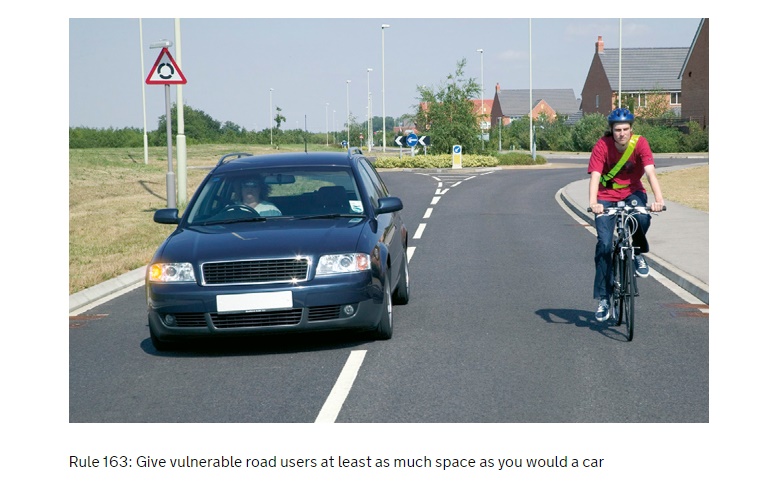 You should continue to cycle at your normal speed – don't slow down or speed up to suit vehicles behind you. Taxis will have to slow down to match your speed.
This is a problem because the two modes naturally travel at markedly difference speeds. Many stretches of rush hour bus lane have an unbroken line of slow or stationary traffic to your right.
Over the next 12 weeks I will continue to do as I always do – cycle in the exact middle of the bus lane.
By cycling through the U of BUS LANE, it ensures taxis, buses etc must wait to overtake me safely in the outside lane. By cycling over the B in BUS LANE, an impatient driver may take an opportunity to squeeze past me, and possibly knock me off. It also avoids grates and gutters and the debris which collects by the kerbside.
Primary position controls the bus lane. You may feel pressured from behind, but any aggressive actions by drivers is unwelcome and should be reported as above.
Note: this is entirely my personal experience and you should decide how best to approach your positioning.
Make sure it's over in 12 weeks
No-one but YOU is going to make this a temporary measure. Cycling organisations and grizzled campaigners will tell you the same – the Department would be very happy to let this become a permanent arrangement by default.
If you're cycling down a bus lane during Bike Month in June grumbling about a taxi up your backside, don't be regretting that you didn't take part in the fight back.
I'm a disabled cyclist, not an experiment, @ChrisHazzardSF @deptinfra! 1000's of taxis in bus lanes puts all 🚲 riders at risk. @nigreenways pic.twitter.com/J07d4ozZKy

— Ellen Murray ♿🚲 (@ellenfromnowon) February 19, 2017
There is an election coming – every candidate who comes to the door needs to be told of your opposition and asked for their support to cut the trial at 12 weeks.
Contact your local MP – here are the four in Belfast:
Contact your local MLAs – here are the 24 in place (up to 2nd March):
Belfast East
Andy Allen
Joanne Bunting
Sammy Douglas
Naomi Long
Chris Lyttle
Robin Newton
Belfast North
Paula Bradley
William Humprey
Gerry Kelly
Nichola Mallon
Nelson McCausland
Caral Ni Chuilin
Belfast South
Claire Bailey
Paula Bradshaw
Claire Hanna
Máirtín Ó Muilleoir
Emma Pengelly
Christopher Stalford
Belfast West
Alex Attwood
Gerry Carroll
Alex Maskey
Fra McCann
Jennifer McCann
Pat Sheehan
(Contact details to follow.)
Also, record any incidents in the comments below.
This page will be updated frequently with updates and suggestions to the best advice we can muster to get through this shocking stitch-up.