A faction of Belfast's taxi industry have launched an entertaining PR campaign to bypass the very bus lane trial they lobbied for, and got. And it has backfired. Badly.
The campaign centers on a lobbying postcard, as picked up by bemused Belfast resident Tara in a Mace convenience store on the Lisburn Road.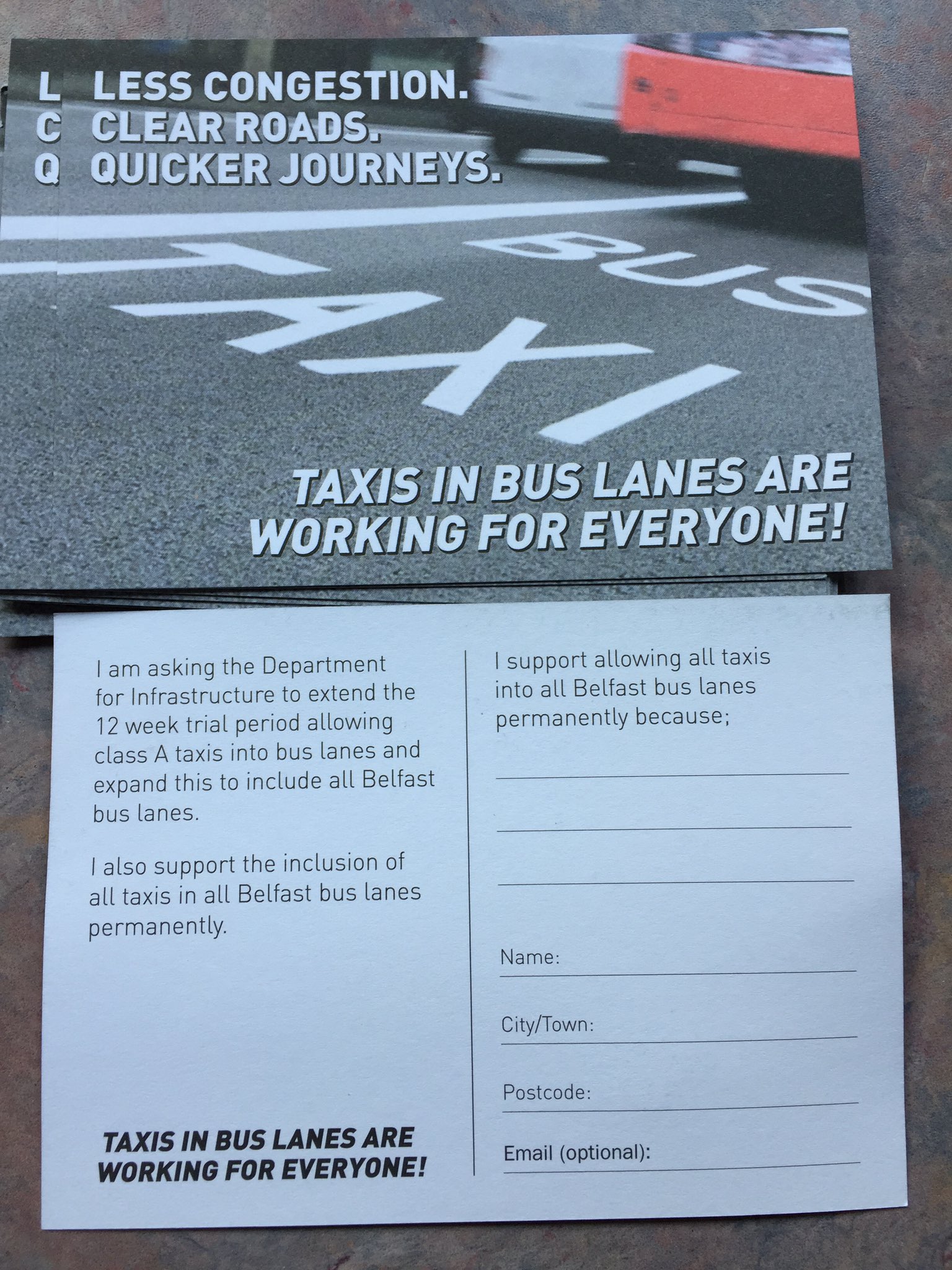 There is no greater enemy to the cause of private firm taxi access to bus lanes than the inept taxi firm bosses themselves. Most people can quickly work out the two main problems with the postcard:
You need to buy your own stamp – which is a really cheapskate move.
No-one thought to include the Department's address – which is brave. And thick.
But Bikefast dug a little deeper, feeling something was a little off with the picture. So we managed to track it down to iStock. With a little more investigation we discovered this photo of a taxi / bus lane was taken in Barcelona where.. cycling is banned in bus lanes.
"You cannot cycle in bus lanes if this is not explicitly allowed and signposted."
barcelona.cat
So is the private taxi firm lobby now indicating it wants cyclists out of bus lanes altogether? If so, it's a serious escalation of their plan which would see taxis dominate bus lanes to the expense of bus journey times and cycling levels.
Based on a press release Bikefast has obtained, the brains of the operation appears to be someone within either Fona Cab, Gransha Taxis, Knock Cabs, 24/7 Cabs, Value Cabs, Cedar Cabs or the PR firm representing them.
"We will be bringing our campaign to those in charge of the Department for Infrastructure at this time and launching a postcard and letter initiative in support of our two proposals."
Fona Cab boss William McCausland
Thanks to Tara we now have the best suggestion for what to do if you see these postcards lying around – make your views heard loud and clear: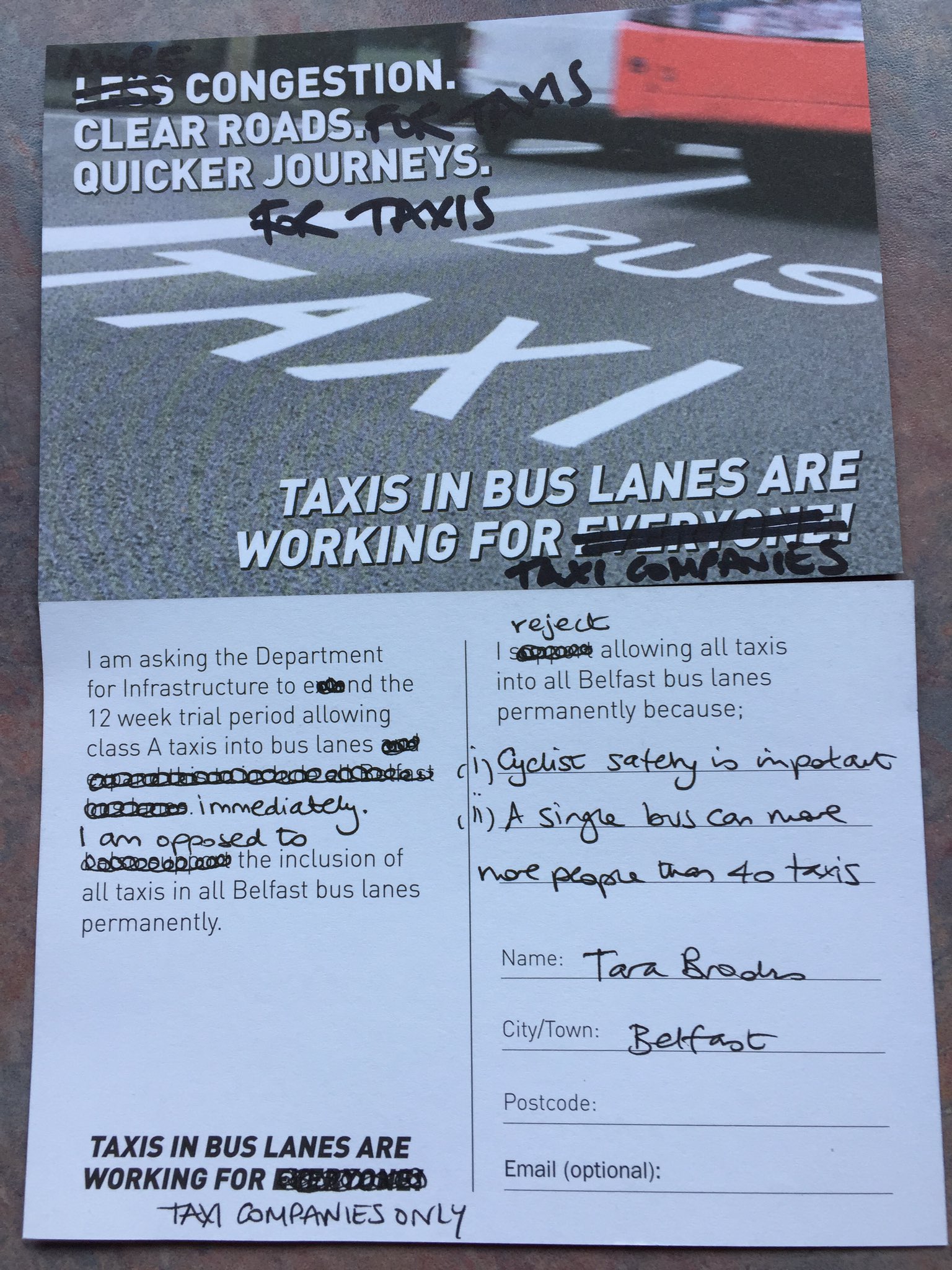 The public voice of this blundering charm offensive is William McCausland, the boss of Fona Cab.
William is turning out to be bus passengers' and cyclists' best ally, fronting a campaign which is insulting the intelligence of the general public, of politicians who decide on these matters, and (perhaps worst) dismissing the efforts of the Departmental staff who are currently working hard to collect cold, hard data through this bus lane trial.
William was on the receiving end of a roasting from Stephen Nolan last Thursday (30th March 2017) whose keen sense for bullshit served the debate with former Belfast City Councillor Ross Brown well.
Ross Brown: "The Department admitted there is going to be an impact on the performance of the bus lanes both in terms of bus speeds and also in terms of safety of cyclists."

William McCausland: "Well certainly, we haven't seen any evidence of this so far."

Stephen Nolan: "There hasn't been an objective collecting of evidence – you're going from your anecdotal observation of this – there is no evidence, full stop."

William McCausland: "Well I mean, you can use your eyes."
The Nolan Show, BBC Radio Ulster
Touché William.
But if you really want to be amused, imagine how shocked William was by the Nolan treatment after the softballs and belly tickles he got on the Frank Mitchell show less than an hour earlier.
Shudder.
Never let anyone use the words "Frank", "Mitchell", and "journalist" in the same sentence: this is basically an enhanced 16min press release https://t.co/lYXh6tpndL

— NI Greenways (@nigreenways) March 30, 2017
One more geg is that Value Cabs is listed as part of this taxi self-help group. Christopher McCausland (yes, related) from Value Cabs is currently senior vice president of the Belfast Chamber of Trade and Commerce, and took part in that organisation's submission to an Assembly Committee asking for Belfast bus lanes to be scrapped!
Talk about having your cake and eating it – and if you can't have cake no-one else is allowed cake.
Here's that press release in full (Bikefast has helpfully emphasised the most hilarious/insulting parts in bold):
Fona Cab owner William McCausland said:

"Many taxi companies from across Belfast are in full agreement on two proposals. These are to extend and expand the existing twelve week trial period allowing Class A taxis into bus lanes and for all taxis to be allowed into all Belfast bus lanes permanently.

We support the Department of Infrastructure decision to initiate the trial period and we are absolutely confident it will show that allowing taxis into bus lanes is the right decision.

We can already see the benefits.

Traffic is moving quicker.

Congestion has reduced.

Ordinary commuter's car journeys are taking less time.

In the bus lanes the transition has been smooth.

The increased regulation, testing, and training of taxi drivers has ensured that our drivers treat road users with respect and are conscious of ensuring safety at all times.

Allowing taxis into bus lanes also means taxi customers are getting their taxi sooner, reaching their destination quicker, and paying less for their fare.

Taxi drivers are now completing more journeys every day and customers are benefiting.

People who use taxis to get to hospital appointments and who are unable to walk to the main road to stand at a bus stop are able to get to the hospital and to clinics quicker.

This is a vital public service that taxis are performing every day. Taxis being allowed to use the bus lanes means people using our service are not missing hospital appointments because they are stuck in traffic.

Taxis in bus lanes has also led to a reduction in traffic within residential areas situated off main roads.

Added to that are the benefits to the environment of reducing congestion on Belfast roads.

We would ask the Department to take all these benefits of keeping taxis in bus lanes into account.

The Department initiative has been met with widespread approval and we are now calling on them to extend the trial period and include all Belfast bus lanes, with a view to making this permanent in the time ahead.

We will be bringing our campaign to those in charge of the Department for Infrastructure at this time and launching a postcard and letter initiative in support of our two proposals.

Taxi drivers, taxi customers, and ordinary road users are in support of allowing taxis into all bus lanes to keep traffic moving quicker and reduce congestion around the city.

Our two proposals are common sense proposals that will benefit Belfast and the general public."
Hands up anyone (public, politicians, civil servants) who's buying that congestion in Belfast has miraculously reduced and traffic is moving quicker? To quote William McCausland "you can use your eyes" to see what nonsense this is.
Are you prepared to let the private taxi firm lobby patronise you like this? To claim to speak on behalf of all 'ordinary' road users? To insult your intelligence and treat you like a fool?
Despite their stated absolute confidence, why are they evidently so concerned to get this whole scenario fixed in their favour before the actual evidence is collected, analysed and presented by the Department?
Answers on a postcard..