As we enter the eighth month of the year, Ciclovia Belfast 2018 has no confirmed date. Bikefast's Jonathan Hobbs thinks it's time to reset the event and aim to fulfil its original vision, before it withers away.
At the end of June 2018 the future of the Belfast City Marathon hit the headlines. A long fought for settlement between organisers, Belfast City Council and stakeholders allowed the annual race to move from the traditional Monday slot on the May bank holiday weekend to Sunday morning.
Key in the debate for years had been the concerns of churches along the route, with both the potential for disruption to services and the unease of holding such an event on the Sabbath. For organisers the move allows the Marathon to evolve and grow, potentially attracting more competitors and reducing some costs. For the city it offers the hope of more visitors, more trade and less impact on peak travel times on a bank holiday.
The debate piqued my interest because it was almost an exact retread of discussions I'd been involved with four years previously. A mass participation event with closed roads on a Sunday morning in the centre of Belfast, met with initial caution by business, religious and transport stakeholders but proven to be a low impact and high reward event.
Established in 2015, Ciclovia Belfast brings life and joy to the streets of Belfast for one Sunday morning a year. I had a small part in discussions to launch it, and as an event I love it – what I said in this video from the first event is still true.
But a penny dropped for me with the Marathon announcement, crystallising my growing frustration with the direction of Ciclovia Belfast. The 2019 Marathon is confirmed for Sunday 5th May 2019 and tens of thousands of people can already make plans.
Meanwhile the 2018 holding of Ciclovia Belfast still has no confirmed date. More than half way through the year, with Bike Week and the Twelfth holiday behind us.
Belfast City Council regards Ciclovia Belfast as "a ground breaking initiative which reflects very positively on Belfast as a city". And it is. But it's frozen in time, inexplicably following the inadequate blueprint of a rushed and curtailed first attempt.
Cracking under the pressure to get started
"Now wouldn't a Ciclovía Belfast which saw us close down roads in a different part of the city for one Sunday each month be a real boost to community relations and tourism?"
Máirtín Ó Muilleoir, newbelfast.com, 11 Jan 2015
In November 2014 a small group met over breakfast to discuss establishing a Ciclovia model in Belfast. The group included cycling event organisers Cycul (Lap the Lough, The Fréd Festival, Ride on Belfast), myself with the marketing arms of NI Greenways and Bikefast at my back, along with Sustrans and former Lord Mayor (and then new MLA) Máirtín Ó Muilleoir.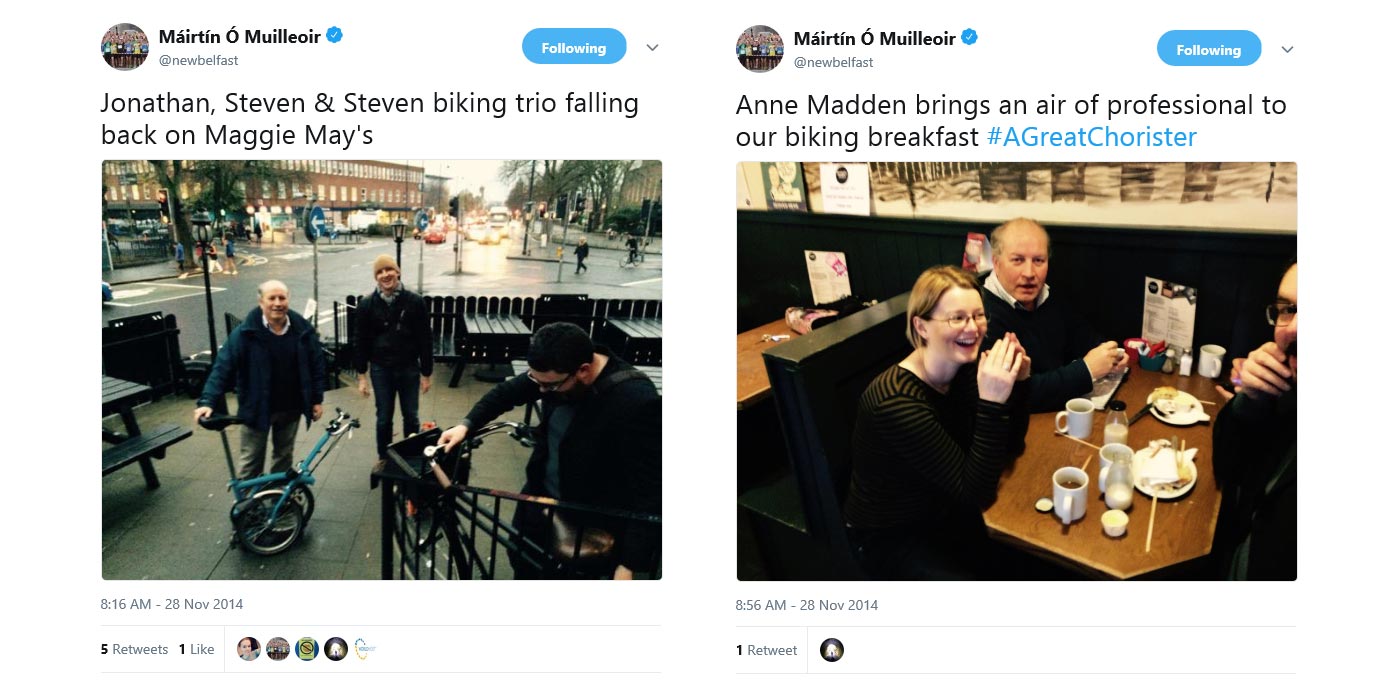 We drew inspiration from the Bogotá model, where vast areas of the city are barred to traffic every Sunday and the people flood onto the streets, and from CicLAvia in Los Angeles. Contact was made with the CicLAvia organisers who emphasised the success of their community based, grassroots approach, as opposed to a top down idea. They advised taking a year to plan and prepare each event.
The time was right – Belfast had just hosted the 2014 Giro d'Italia Big Start and cycling was suddenly the flavour of the month for government authorities.
Botanic Gardens to City Hall was identified as the logical route to test the concept. From a successful first event, a community-based independent organisation would be established to work exclusively on Ciclovia year-round – sourcing external funding, working with schools, churches, businesses, community groups, organising the events themselves, and running several Ciclovias through the year in different parts of the city.
It was to be the focal point to raise the profile of the bicycle in Belfast as an everyday tool of movement.
Interestingly, an arms length and independent body is also how the Belfast Marathon is organised. Belfast City Marathon Ltd was set up in 1982 by Belfast City Council and Athletics Northern Ireland, with over 3,000 participants taking part in the first running – ironically the same participation level Ciclovia Belfast attracts.
"The marathon is organised by Belfast City Marathon Limited – a free standing, legally constituted organisation that has no actual legal connection to the council, except in relation to funding."
Belfast Marathon to run on a Sunday (BBC News, 27 June 2018)
The vision beyond the 'pilot' was laid out with a clear road map to a sustainable event model, but heavy hitting political backers were needed to knock down doors for that first running. While this enabled the right people to be brought together to make it happen, it also meant the event was tied to wider political and electoral timescales.
In other words, the pressure was intense from the outset.
The first steering group met in January 2015 with a jaw-dropping four dates in the first calendar year being seriously proposed to potential funders. Only the reality of the council funding approval processes prevented March 2015 being penned in.
It was very far from the recommended 12 months of preparation.
By February we were back down to a single pilot which was scheduled for April; by April, when Council funding of £15,000 was approved, it was scheduled for June to coincide with Bike Week (as originally planned and its natural 'home'); by June the reality of political pressure getting in the way of a year of preparation was biting hard.
Subject to a number of intractable organisational and logistical challenges, Ciclovia Belfast was having to be shoehorned somewhere into a rapidly diminishing set of available dates, rather than aiming for a time that suited the event. With winter ruling out everything from Halloween 2015 to Easter 2016, existing events such as the Mela and Culture Night covering certain weekends, Ciclovia Belfast was eventually slotted into a strange mid-autumn date of Sunday 4th October 2015. This was obviously a massive gamble given Belfast's climate.
By June, from our original group of active travel advocates, only Sustrans remained involved, but were not interested in taking on delivery of the event. This saw the Council take the co-ordination of the pilot event in-house, overseen by a steering group, and to be delivered by an external company. The community-owned model was slated to be established afterwards, to lead the future development.
That never happened.
The first Ciclovia itself was a success. The Pioneer Group, an excellent sports events, management and consultancy company, did a great job of delivery on the day. Stakeholders benefitted from involvement, businesses on the route got a welcome trading boost and the estimated 1,500 members of the public enjoyed the event. The weather, amazingly, played ball. For Belfast City Council, the concept was proven and the investment justified.
But afterwards, there was silence.
No social media activity, no follow-on, no date set for 2016. Without a cycling-steeped working group controlling the event, it drifted. The Council held on to sole control of Ciclovia Belfast. No meetings were called to shift to an independent delivery model.
This meant waiting for committee funding rounds to see if another event was possible – a disheartening six months of inertia. While another £10,000 of funding was secured on the understanding that the second running would "take place during the summer months of 2016", the event somehow got shifted to even later in the year, on 30 October 2016.
As much as anything, this demonstrated the lack of wit and control. A cold mid-autumn slot, the result of desperate political expediency for the pilot, had now become the established calendar slot – for a mass public participation outdoor event.
And there it has remained, occupying calendar weeks 40, 45 and 38 respectively in the last three years.
What should Ciclovia have been by this fourth year?
Belfast's climate gets a bad press, but we've been experiencing a phenomenal run of weather since April 2018. Sunday after Sunday of sunshine and gentle summer breezes, each and every one a golden opportunity missed to get masses of people – kids, families, tourists – out on their bicycles, scooters, wheelchairs, rollerblades, prams, feet and experiencing the city through the unique lens of Ciclovia.
By 2018 the expansion plans for Ciclovia Belfast should have been in full swing.
A minimum of four separate events was the aim for this stage – two on the established Botanic route with the others moving around the city. The Falls, the Shankill, and the lower Newtownards Road were all prime candidates in those first few meetings. Imagine what a Ciclovia from City Hall to CS Lewis Square, directly linked to the Connswater and Comber Greenways and the Lisburn to Newtownabbey path, would do for the city.
Year-round management of social media channels, organisers proactively engaging with groups along each route – churches, schools, community centres, businesses – to give ownership of the concept to locals and spin out ideas for improvement and growth.
Not a three hour event which invades one road once a year and isn't heard of again for ten months.
£10,000 of council funding was secured way back in March of this year, marked by a few tweets and then complete radio silence for four months.
No date. No publicity. Two tweets and one Facebook post since September 2017. No sense of using the easy publicity of Bike Week 2018 to drive interest in what is easily the city's number one cycling event. No ongoing activity to grow awareness, to fire the imagination, to capture ideas for the next event, or to create and instil a sense of community – or to leverage interest in everyday cycling through the year.
We look to be repeating the pattern of last year, when the date was announced at the end of July with just two month's notice for the public.
Ciclovia Belfast should be a terrific asset for the city but, from the outside, the management seems half-hearted.
How can some life be injected into Ciclovia?
Belfast City Council has demonstrated it can run a decent facsimile of a real Ciclovia. And the Council does 'get' cycling – look at the continued hard work and funding for Bike Week, Ride on Belfast, the wonderful Belfast Bikes scheme, the policy push for innovative cycling design features to be deployed in Belfast and support for arterial cycleways, and much more. They're smart, and progressive when it comes to cycling policy.
Don't sugar coat it @belfastcc, tell us what you *really* think of @deptinfra's handling of cycling.

(Reads Council minutes. Falls over.)

Ohhhhh! Oh no you didn't! pic.twitter.com/rvOOkFnKLn

— NI Greenways (@nigreenways) June 28, 2018
If the weather holds again (and a fourth year in autumn is stretching Belfast's luck) there's no doubt it'll be a professionally-run three hour event, certainly if Pioneer are the delivery partner for a fourth time – they 100% know their stuff.
But, as with the first three events, for the Council it'll be job done, shutters down, see you in autumn 2019, same as last year. And that's the core problem.
Without ambition to look beyond the current Ciclovia Belfast model, without allowing it to grow independently from the Council, without everyday cycling voices being involved in the strategic discussions, without creative hands to rescue it from its own broken blueprint, it's being slowly coddled to death by committee.
Belfast City Council should be looking to get out of this space and hand over to a trusted, sustainable operating model, but is the door really open to starting that conversation?
"The Director outlined to Members that, since its inception [Ciclovia Belfast] had been delivered with partnerships as a central part of its ethos. He advised the Committee that it was anticipated that those agencies which had a cycling specific brief, such as the Department of Infrastructure's Cycling Unit, SUSTRANS and NI Greenways, would again be key partners for the 2017 event."
Belfast City Council City Growth and Regeneration Committee, 12 Apr 2017
That last line caused some mirth as "NI Greenways" has never been invited to attend a Ciclovia Belfast steering group meeting, save for those initial roundtables in January and February 2015. Upon seeing my status elevated in absentia to "key partner", I approached members of the steering group in May 2017 to ask for a strategic review to be convened last summer, in time to alter direction for 2018.
Maybe that review happened without "NI Greenways" in the room again but, with the same event blueprint repeating this year, I suspect it didn't.
A face-to-face approach was the correct way for me to raise these issues – it delayed this article (which is definitely the wrong way to raise it) by a year – but nothing looks like changing, so here we are.
Is the Council willing to discuss the strategic direction of Ciclovia Belfast? And if that door is closed, what options are left?
Carry on ticking a box, or aim for the stars?
If you struggled to swallow the parallels with the Belfast Marathon, then you underestimate the potential of Ciclovia Belfast.
The Belfast Marathon is Northern Ireland's largest mass participation sporting event approaching 20,000 competitors, while Ciclovia Belfast doubled from an initial 1,500 participants to approximately 3,000 in years two and three. The difference between night and day, right?
But when the Marathon started almost 40 years ago, just 3,000 people took part and it has grown through vision, hard work and dedication over four decades. To give you a sense of where Ciclovia should be heading, consider the two cities which were the original inspiration:
A thriving Marathon is great for this city as an elite sporting event which also gets thousands of ordinary people active. A thriving Ciclovia with multiple events annually in different areas of the city can get many, many more people out and active over the course of a year. The public health potential is massive, early Sunday independent trade could be flourishing, and the running costs would remain comparatively low.
My advice (and I know it really isn't being sought) would be to forget about Ciclovia Belfast 2018. If our luck runs out and the rain washes it away in late September or early October, it might never return.
We're stuck in an annual repeat of the pilot phase and we're all very certain that it works. Let's move it up a few gears.
Focus exclusively on resetting the model with a new start in 2019. Establish an independent vehicle for Ciclovia Belfast. Set the dates now for mid June 2019 (Bike Week) and mid August 2019 – take the guts of a full year to plan the expansion correctly, establish an ongoing media and engagement plan and let's get boots on the ground organising in local communities. Perhaps most importantly, work to establish a new route corridor for one of those dates, with a view to further expansion to four separate events in 2020. And a thousand things more besides.
Allow Ciclovia Belfast to be worked on year-round by people who do everyday cycling culture for a living, have a 24/7 passion for it, and have the vision and belief that Ciclovia Belfast can be far better than it currently is. Or carry on and let it remain a shadow of potential itself.
Stephen of @getupbeat says Ciclovía challenge will be to keep it sustainable

— Máirtín Ó Muilleoir (@newbelfast) January 16, 2015
Find out more
Ciclovia Belfast (official website)
All Ciclovia Belfast articles on Bikefast
13 ideas to improve Northern Ireland cycling in 2013 *including a CIclovia* (NI Greenways)