Northern Ireland Transport Minister Michelle McIlveen has opened the first 15 mile section of a flagship traffic-free greenway from Belfast to Dublin. The planned 110 mile route will be built in stages over the next five years but it has already caused controversy by halving capacity on the Belfast to Dublin mainline railway.
The new 15 mile "rail trail" section between Lisburn and Portadown links the Lagan Towpath to the Newry Canal Towpath, providing traffic-free cycling all the way from Belfast to the border. The £20m project included part-funding from the EU INTERREG Programme for cross-border sustainable transport.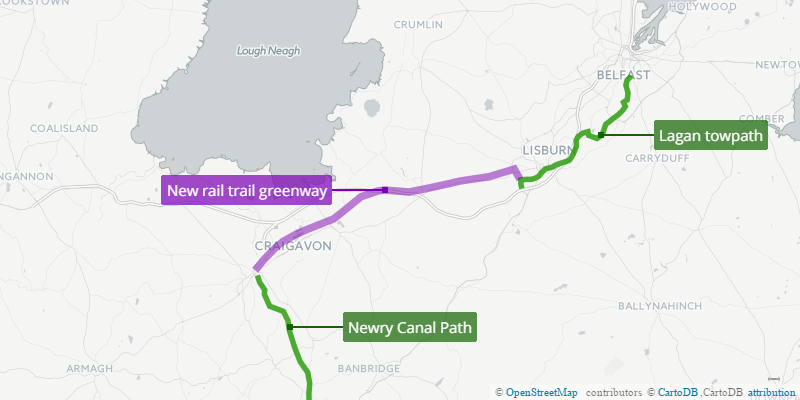 This is the first major greenway project completed under the new Bicycle Strategy for Northern Ireland and Minister Michelle McIlveen sees it as a critical first step:
"I am delighted to be able to announce this new route. As a user of the Comber Greenway I recognise the value of greenways. They are an excellent way to enable people to incorporate activity into their everyday routine – whether as a means of travelling or for recreation and leisure.

"Within five years it will be possible to cycle from Belfast to Dublin traffic-free which will be a wonderful boost for tourism. Work is continuing on a Strategic Plan for Greenways for Northern Ireland and I expect it to be available around the end of April."
However some local politicians have questioned the wisdom of a greenway project which has seen the Belfast to Dublin mainline railway reduced to just one track over this 15 mile section, and trains restricted to 30mph.
A spokesman for UKIP blasted the project:
"This is typical EU largesse on another white elephant project for the powerful cyclist lobby which, not content with wrecking Belfast city centre for the private motorist, has now messed up the railway system."
But the Department for Regional Development has defended the scheme, citing difficulties with land acquisition for greenways and outcry over roadspace reallocation for transport cycling schemes. It is understood that railspace reallocation will be a key feature of cycling plans in the next Programme for Government following May's Assembly Election.
The new summer 2016 Enterprise timetable has also been released today with trains departing Belfast every four hours and a journey time to Dublin of 2 hours 45 minutes described by Translink as "competitive".