April 2014
Belfast City Council cuts off the National Cycle Network in Belfast city centre to allow construction of the new Waterfront Conference Centre – pathway users are given a lengthy diversion across the river.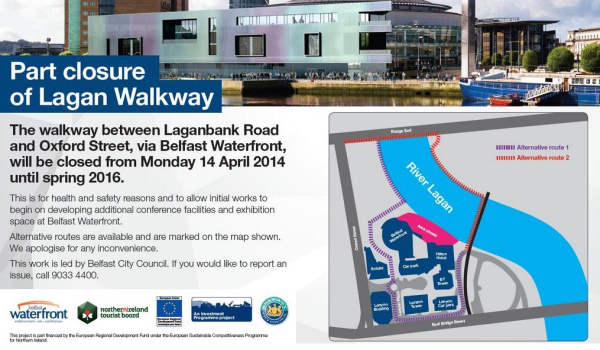 Logic news: yesterday I could cycle this bridge; today @belfastcc *upgrades* it to an NCN route and.. pic.twitter.com/64mb0VTeLE

— NI Greenways (@nigreenways) April 29, 2014
April 2014
Campaigners point out the stupid aspects of the plan, engage politicians to raise questions, suggest a signalled crossing be installed at the four-lane Queen's Bridge to improve the diversion route.
Cycling debate @niassembly: @patsymcglone on @belfastcc's Waterfront shambles http://t.co/d4vuUAw2Ly pic.twitter.com/d0JDuBHH0Y

— NI Greenways (@nigreenways) April 29, 2014

June 2014
With impressive speed, the Department for Regional Development's executive agency Roads Service (now Transport NI) kicks into action almost immediately, listing the toucan crossing on its programmed actions.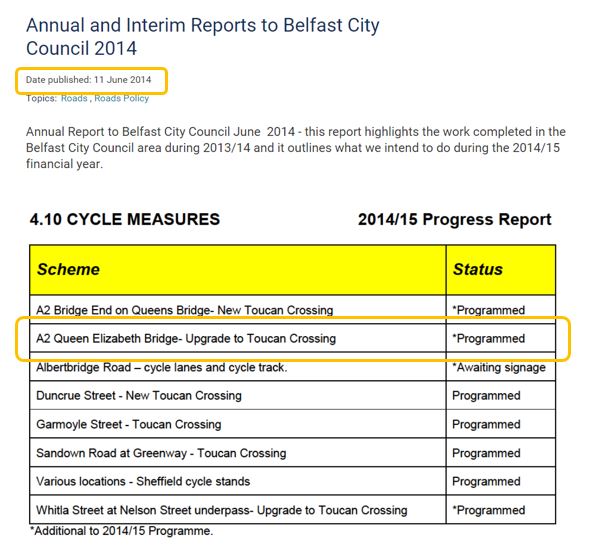 April 2016
The upgraded Waterfront Hall opens and the riverside pathway re-opens to the public.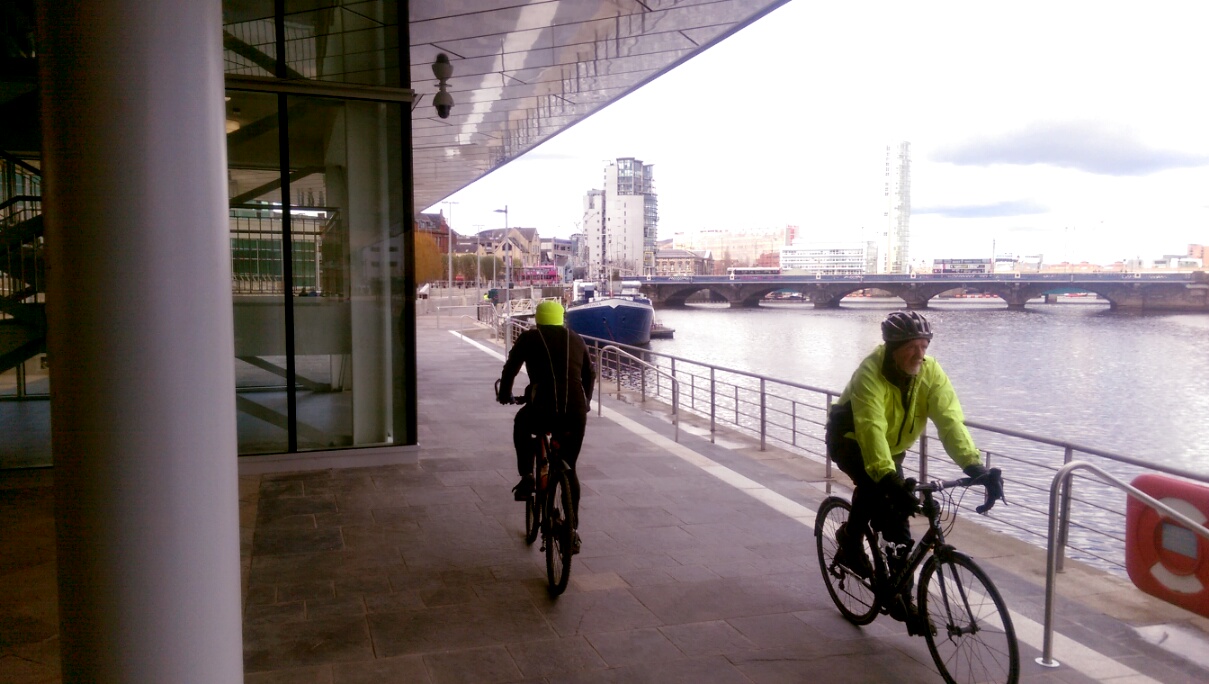 EXCLUSIVE: First ride down reopened NCN at Belfast's @BelWaterfront Conference Centre (with all new pinch-point) pic.twitter.com/S2v5PuksYr

— NI Greenways (@nigreenways) April 29, 2016
April 2016 (same week)
The toucan crossing at Queen's Bridge is installed, operational for just 3 days before the Waterfront diversion is no longer in operation.
https://twitter.com/stevenpatt99/status/725051949687668737
Facepalms all round! An appropriately daft way for the whole #Shamblefront episode to conclude. Vive la #CyclingRevolution!