Transport Minister Michelle McIlveen has announced the start of construction of three new cycle routes in Belfast.

"These routes will provide greater protection for people who choose to make journeys across the city by bike."

They are continuous routes including measures such as protected two way cycle tracks, bicycle signals and a bicycle friendly street.
Department for Infrastructure press release 21 Jan 2016 (DOC, 16KB)
Protected. That word meant everything then. A new start for cycling in Belfast. Grafting some international best practice onto our streets with the intent of putting people first. Knowing that to boost cycling numbers we needed more vehicle-free space.
Protected. Two and a half years later – with those new cycle routes teeming with vehicles every day – I'm sitting across a table from Departmental officials asking for their understanding of the word.
One month after that meeting, the penny had dropped:
The @deptinfra will be undertaking a post project review of the cycle scheme in Alfred Street. This will reflect on the good work that has been completed and identify if there are opportunities to further enhance the scheme for walking and cycling pic.twitter.com/EUvpV9071s

— Dept Infrastructure (@deptinfra) November 30, 2018
"The @deptinfra will be undertaking a post project review of the cycle scheme in Alfred Street. This will reflect on the good work that has been completed and identify if there are opportunities to further enhance the scheme for walking and cycling."
Over four articles Bikefast will explore the Alfred Street cycleway review about to be conducted by the Department for Infrastructure (DfI), covering:
the problems which the design creates for users on a daily basis
the simple fixes the cycleway needs if DfI opt to retain the current design
an exploration of issues which an expansion along nearby Hamilton Street creates
why the cycleway should be ripped out and the street fully redesigned
How problems were designed in
In simple terms the Alfred Street / Upper Arthur Street cycleway has been a success. Cycling numbers are up – confirmed verbally by DfI officials, but we've still to see the raw figures. An existing 200 metre kerb separated cycle lane has been 'upgraded' to a 500 metre wand separated cycleway linking the intercity National Cycle Network with Belfast city centre. A street which just three years ago was predominantly two-way for vehicles filled with car parking has now been made more people-centred.
In a way, the Northern Ireland Greenways "Delivering The Goods" campaign and the twin comedy threads of the #BinLane and #Cyclesaurus were responsible for DfI picking this street for its first 'next generation' cycleway scheme. While the ghost of Cyclesaurus still haunts Alfred Street's junction with Franklin Street, instances of drivers blocking the Upper Arthur Street section are noticeably down. And the bins know better.
The lessons for campaigners and engineers from the previous design (picture below) were clear – kerb protection alone would never deter drivers from abandoning vehicles within a cycleway in an area of such high parking demand. Bikefast proposed a kerb / bollard combination, but DfI plumped for a bollard-only approach, fairly reasoning that a tight array of bollards – impermeable to vehicles, protected – would make kerbs a redundant piece of street dressing.
Plans for city centre cycleways in Belfast were brought to public consultation in early 2015. The scheme design documents for Alfred Street / Upper Arthur Street (May 2015) showed 120 protection bollards (or wands as they're referred to now) spaced at roughly 3 metre intervals (PDF, 988KB).
The cycleway was touted as a pilot project, experimental in nature, so that if issues or problems were identified, things would be quickly changed.
"These are officially being treated as pilot routes, giving the Cycling Unit the ability to change elements which aren't working or need improved."
nigreenways.com report on Alfred Street launch
When the cycleway was constructed, concrete foundations were laid for wands at the initially planned three metre intervals. However wands were only installed at every other foundation point, ie at six metre intervals. It was assumed this was a contractor mistake, but on checking with the Cycling Unit, it was discovered that this was intentional.
Behind the scenes a series of "Cycling Programme Board" meetings had seen the wand spacing oscillating from 3 metres (original 'indication') to 5 metres (Nov 2015) back to 3 metres (Dec 2015) up to 6 metres with 3 metre foundations (Feb 2016) to maybe 5 metres in later schemes (Apr 2016) but ultimately 6 metres – here, and as the default in all future schemes.
All of it without stakeholder input and not what the public had been consulted on.
Inevitably this meant that the "protected cycleway" – with protected meaning protected from vehicular traffic – was now easily accessible to cars, vans and trucks wanting to park for short periods, or worse, actually drive inside the cycleway.
Drivers park vehicles in the lane on a daily basis for a variety of reasons. Short term car parking (popping into the shops), taxis picking up and dropping off at the Premier Inn, vans making deliveries at various commercial premises and refuse trucks collecting business waste.
Weekend nights see the worst parking problems. With AM:PM and Thompsons Garage close by, parking demand is high – and the cycleway is freely available. This makes the city's highest profile active travel infrastructure not a 24/7 facility, because.. cars.
6pm Sunday, Belfast busy with pedestrians & cyclists (incl family groups). THIS on Alfred St.
Cyclists and Lucy aged 11, forced wrong way up a 1-way street. Then told we were "nuisances" and cyclists should "get off the road". Ah the irony. Belfast we can do better #notputoff pic.twitter.com/r0ZydGGpCy

— Christine Osborne O'Toole (@christinebelfas) November 4, 2018
See: a compendium of tweets, pictures and videos of various forms of misuse of this new generation of Belfast city centre cycleways.
Despite repeatedly highlighting these issues – take this exhaustive article from December 2016 for example – and indications at launch that the Department would actively seek iron out any wrinkles, no substantial changes have been made in the two and a half years since launch.
So while cycling numbers are up – and that's a welcome outcome which chimes with Programme for Government aims – safety has remained in the doldrums. As has the reputation of the cycleway and (by extension) DfI's management of the cycle infrastructure programme.
Results of the design flaws
There are seven distinct sections of the 500 metre cycleway with issues of varying degrees of severity and risk. Bikefast has created basic layout graphics for five to explain the most complex design flaws and (next article) how to fix them.
Ormeau Avenue entrance (issues with priority)
Although a continuous footway along Ormeau Avenue was promised as part of the original scheme, in reality it was a fudged effort – not a continuous footway as the Dutch would class it or design it.
Yes, there is no kerb or level change between footway and road with separation only by white lines. But, the defining characteristic of a continuous footway is priority for users of the footway space, not vehicles as is the case here. It's not great for pedestrians, and offers a very poor transition between dedicated cycleway and shared footway for those cycling.
Also, the theme common to the rest of the cycleway begins here – unfettered access for vehicles.
The cycleway's first side access – the alleyway behind Tyrone House – serves around 40 car parking spaces, not a significant trip generator. The tight alley serves to reduce vehicle exit speed meaning there isn't much danger here.
Adelaide Exchange Car Park and Premier Inn (parking demand)
Adelaide Exchange is a major office block fronted on the parallel Adelaide Street. At its rear on Alfred Street, building users can access the 24 hour, three storey underground car park with 183 spaces – a more significant number of vehicles crossing the cycleway every day.
This isn't just a car park entrance though – it also serves as a waste collection point (bins and lorries) and for extended periods has been dominated by traffic involved in construction and interior fitting out. As a major office block this latter feature will recur into the future.
Where vehicles drive into the cycleway to pause, they tend to continue down the rest of the cycleway to emerge again – or, if you'd believe it, just plough through the line of wands.
A key success of the Upper Arthur Street section (read on) has been the reduction in parking within the cycleway, even with the six metre gaps. It was recognised that short-term commercial parking demand needed to be catered for, hence reducing the pressure to break the rules.
At this car park entrance, there was no cycleway before 2016, so there wasn't a cycleway blocking problem to fix. There is now.
Clarence Street and St. Malachy's (traffic volume and protection)
While the cycleway was a welcome provision for encouraging additional cycling journeys, the original scheme didn't actually address the traffic levels on Alfred Street and the side streets. Hence Clarence Street is one of two danger points where vehicles emerge suddenly (often at speed, often halting half way onto the cycleway) and, being two-way, turn in from Alfred Street.
Also an ironic quirk of this entire set-up is the impact of traffic generated by DfI staff at their Clarence Court headquarters. While the building fronts onto the parallel Adelaide Street, vehicles enter here on Alfred Street, including a generous (and morally indefensible) 265 space multi-storey car park with adjacent loading entrance.
Bad enough as this is, cycleway users are now acutely aware of the propensity of DfI car park users arriving from the east of the city to rat run through Russell Street – in the morning to avoid driving all the way to Ormeau Avenue to access Alfred Street's one-way system, and in the evening when northbound Alfred Street traffic has snarled up to the Franklin Street junction.
Franklin Street and Sussex Place (traffic volume)
This is the major danger point of the scheme – the site of the former Cyclesaurus – a crossroads junction with a two-way cycleway having nominal priority but no real world protection.
Yes! Can we all agree on the name for Belfast's latest daft cycle lane? It's #Cyclesaurus! pic.twitter.com/yD5nJWh78A

— NI Greenways (@nigreenways) September 4, 2013
It was a deadly junction then and, despite the new design, it's a deadly junction now. Why? Because the traffic levels remain so high.
Cycleway users have three points of vulnerability from vehicles crossing the cycleway, all while watching out for pedestrians and fellow cycleway users. The situation for pedestrians is just as bad. Here's a time-lapse of a typical evening rush hour from two years ago, with presumably fewer bicycles than today:
For a future post its worth noting that there's a 4:1 ratio of vehicles to bicycles, and pedestrians actually outnumber both put together. But there's only one mode in charge.
The tendency for drivers emerging from the Harvester House private car park to cut back against the one-way traffic to turn into Sussex Place multiplies the danger. The Northern Ireland Housing Executive (NIHE) car park featured heavily in the Delivering The Goods campaign and, despite a loading yard capable of hosting all but the tallest commercial vehicles, the situation has remained largely the same despite the new cycleway.
May Street junction (unlawful left turning)
This junction saw the only major traffic priority change in the 2016 cycleway scheme, and one that is dangerously ignored by many drivers every day.
To ensure a continuous cycleway route across this junction, replacing the 'dismount and use the pedestrian crossing' original solution, DfI changed the priority to stop drivers turning left onto May Street. The cycleway and the Alfred Street vehicle exit would run on a simultaneous green, so any vehicles crossing the cycleway would create horrendous conflicts.
Oh no.. brake brake BRAKE BRAAAAAKE! #FFS (drivers illegally turning left here *will* kill someone) @PSNITraffic https://t.co/Z8AoSqLhTI

— NI Greenways (@nigreenways) April 8, 2016
It hasn't worked, because.. human nature. Drivers can't help themselves, especially delivery drivers, taxi drivers and those unfamiliar with Belfast or reading road signs – I've even watched in awe as a Belfast City Councillor did it.
A coat of blue paint laid down earlier this year hasn't stopped people chancing it ("sure, what's the harm?").
Upper Arthur Street (cycleway parking)
This is the most obviously successful part of the roll-out of the new cycleway, largely because DfI removed paid on-street parking bays and replaced them with commercial loading bays and disabled parking spaces. A multi-storey car park (red brick building to the right in the picture above) has ample capacity for cars, relieving the pressure on working drivers who need space near businesses on the street. It works.
Where drivers do block the cycleway now, it's down to the simple fact of being able to drive through the protection wands and along the cycleway from entrances where the protection doesn't exist.
The fixes are so simple here we don't even need a street layout graphic 🙂
Chichester Street junction (cycleway access)
This is a classic 'end of cycle route' moment as the cycleway delivers you to a pedestrian crossing where:
you can't turn left (one-way eastbound on Chichester Street)
you probably can't cycle ahead (pedestrianised area)
there is no cycling infrastructure when turning right (busy road with a bus lane)
But safety-wise the biggest fudge of the design is that it's almost impossible to access the cycleway safely and legally from Chichester Street.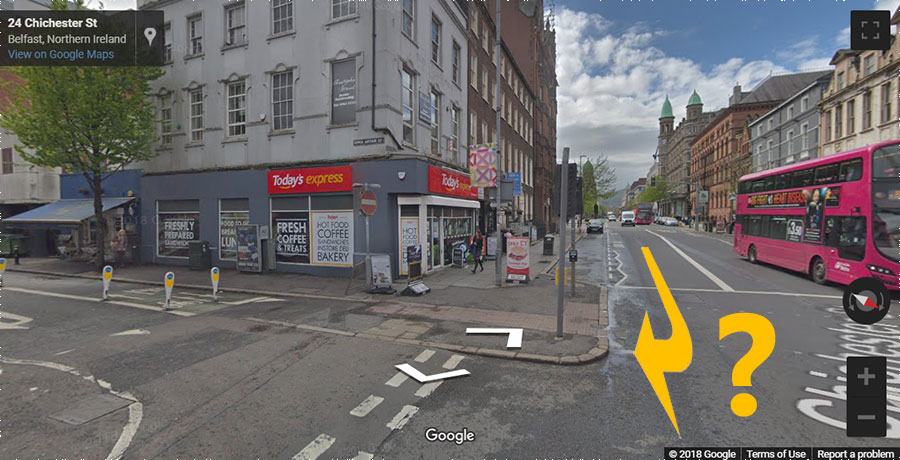 By 2019 we should be talking about how to implement a cycleway along Chichester Street from the City Hall to the Lagan, which probably would include a design fix for this exit and crossing. As it is, we're still trying spending time and energy to resolve old problems on old cycle routes.
Summary
Those are the main issues which should form the core of the review of the Alfred Street / Upper Arthur Street cycleway.
The design choices, baffling ad hoc changes and inaction in the face of difficulties, have impacted upon other schemes in the city rolled out at the same time – Durham Street, College Square East and Queen Street, with predictably similar results.
These designs remain the default for future schemes, and as Alfred Street shows it's failing to provide high quality safe space right now. This is why it's important for DfI to get a clear understanding of the problems and roll out the right solutions, in the right settings.
In the next post we'll cover the simple fixes which can bring Alfred Street up to spec, should DfI choose to retain the existing cycleway set-up.
The Department for Infrastructure is seeking your views on "what improvements can be made to the operation of Alfred Street and Upper Arthur Street in line with the draft Programme for Government".
Send your views on the Department for Infrastructure's Alfred Street cycleway review here.
Alfred Street cycleway review articles
Alfred Street cycleway review – the issues
How to fix the Alfred Street cycleway
Extending a cycleway along Hamilton Street?
Alfredstraat – from cycleway to bicycle street