Belfast city centre's new flagship protected cycleway has been in place for just ten months, successfully supporting cycling journeys into the heart of the city. But behind the headline success, serious drawbacks threaten to cast a shadow over future city cycling network development.
[ LONG READ ]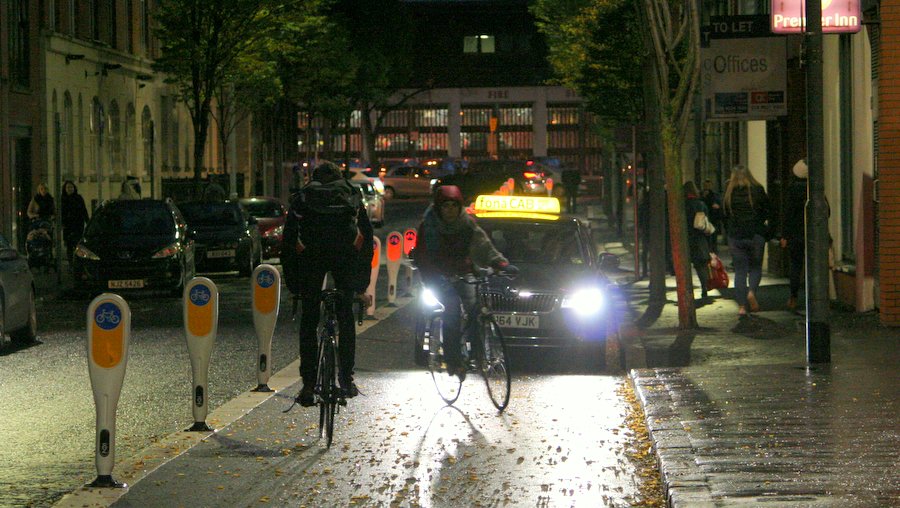 The Alfred Street / Upper Arthur Street cycleway was launched by former Regional Development Minister Michelle McIlveen to great fanfare in March 2016. It promised to develop as a template for a new generation of protected urban cycle routes, aimed at encouraging more people to ditch the car for the bicycle in our congested city.
[youtube https://www.youtube.com/watch?v=V2vJEjqVfEo]
Alfred Street was reduced to one-way for vehicles with a two-way cycle track installed. This runs for half a kilometre from Ormeau Avenue to Chichester Street, linking the National Cycle Network at the Gasworks to the pedestrianised shopping streets of the city centre. It represents both an extension of an existing short section of protected cycle track, but also a break from the traditional bolt-on approach to cycling measures.
It was a major road scheme with cycling as both the trigger and central design factor.
Wee detour this morning to check out new Alfred St cycle lane. Near missed turn on, love the smooth surface #Belfast pic.twitter.com/y6KZkiscXY

— Jonathan Francey (@leglessplok) March 24, 2016
Officially classed as a pilot project, it has been used to observe how all road users interact with this new type of facility in Belfast. If major problems were identified, these could be quickly resolved with design changes by Transport NI, DRD's executive arms length body. lessons learned would inform future design options in other parts of the city.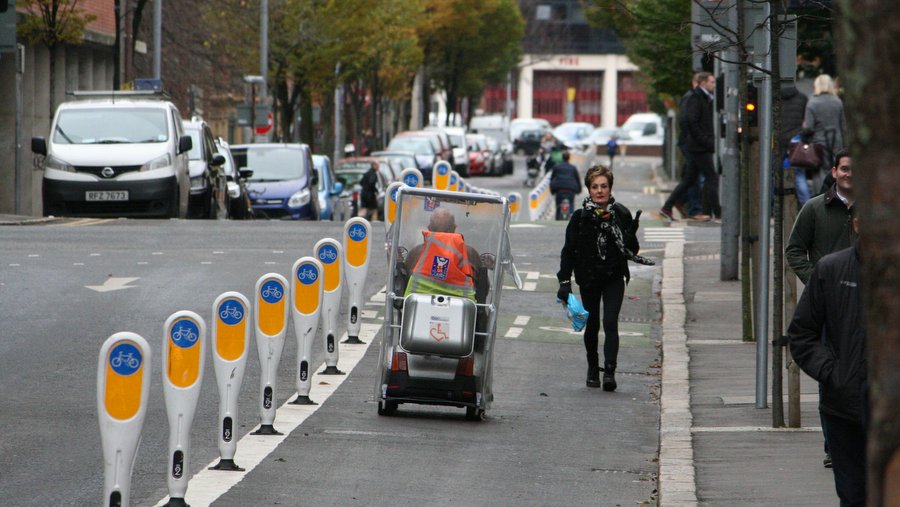 The original cycleway plans entered a period of consultation over the summer of 2015. Many aspects were keenly debated (which side of the road, kerb or wand separation, junction safety) and the Department's new Cycling Unit responded with impressive openness and flexibility to suggestions. Following the traditional winter moratorium on road works the scheme proceeded to construction at the end of January 2016.
And then everything changed.
Bikefast delivers a verdict on ten months of real world usage and calls for some obvious and overdue alterations – and for DRD's successor Department for Infrastructure (DfI) to take a hard look at the transparency of decisions on schemes where public participation has been encouraged.
Magic disappearing wands
The fundamental change from the old "Bin Lane" set-up of Upper Arthur Street was the decision to move away from simple kerb separation in favour of plastic bollards or "wands".
This may seem like a step-down in quality but was a design decision informed by daily experience of cycle lane use. In this area of high demand for parking and loading, kerbs alone posed no barrier to those determined to (unlawfully) block the cycle lane. Users faced daily competition with lorries, vans and cars and little apparent support from parking attendants.
Huge truck illegally parking on Belfast #binlane forces cyclist wrong way up one-way Upp Arthur St pic.twitter.com/YlRcNesOON

— NI Greenways (@nigreenways) April 11, 2013
The case had been made strongly for years that additional impediments – bollards,  wands, planters – were required on top of the kerbs as an idiot-proof measure to prevent misuse. Transport NI (TNI) officials had been observing the blockage problems and were convinced of the need for a new approach..
.@georgebernhard @GBCycleEmbassy I reckon WVM would struggle with this type of 'bollard-on-the-kerb' arrangement.. pic.twitter.com/22uNnGQlob

— NI Greenways (@nigreenways) February 24, 2015
TNI's new cycleway proposals abandoned kerbs in favour of a line of wand to protect the cycleway. Consultation documents showed these arranged in a tight line with gaps of just three metres – not enough space for a car to turn into.

Although at side streets and entrances there would still be a possibility of vehicles accessing the cycle track, this was to be closely monitored. A wand could be placed as a gatekeeper in the middle of the cycle track, but with a potential to hamper access for cargobikes and trailers this wasn't preferred.
There was some excitement as the old Bin Lane was ripped away in January 2016 and groundwork began on the new cycleway. Although the wands may have the appearance of a "temporary" measure, thought had clearly gone in to ensuring longevity. Concrete foundations were laid to make a stronger base for the wand bolts than tarmac could provide.
@nigreenways they were using a big cookie-cutter #holesaw, I'm guessing for foundations for solid bollards. pic.twitter.com/kbONeTcPkU

— Chris Murphy | Críostóir Ó Murchú (@ChrisMurphy201) March 18, 2016
These were pictured being drilled into the new surface, spaced at the agreed three metre intervals:
After a period of line painting and surface treatment, the wands themselves were installed. And immediately it seemed that a horrible error had been made along the way – instead of using all of the foundation points, wands were placed on every other marker – leaving much wider SIX METRE gaps.
@nigreenways I was wrong w measurements earlier. 6m *between* #bollards. (6.10-6.15m "wavelength" centre-centre) pic.twitter.com/t4JCfjlacJ

— Chris Murphy | Críostóir Ó Murchú (@ChrisMurphy201) March 22, 2016
As time went on it was clear this wasn't an error. A decision had been made along the way to change the layout which had (apparently) been agreed in the public consultation.
[googlemaps https://www.google.com/maps/embed?pb=!1m0!3m2!1sen!2suk!4v1485122461591!6m8!1m7!1s92cGy9CihekwrWQVDOFZww!2m2!1d54.59615417231375!2d-5.927503039293271!3f335.75837276453296!4f-10.899988076664627!5f2.426144422265789&w=900&h=400]
While people were prepared to give the benefit of the doubt to the new set-up, it was very clear from the outset what was going to happen with gaps which provided easy access for drivers.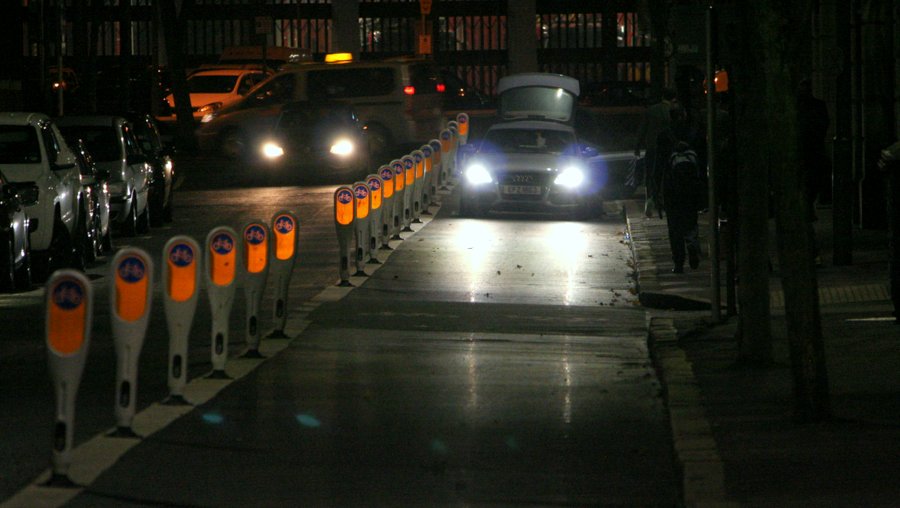 Not a day goes by without a car, van or truck turning, reversing or driving in to the cycleway. The protected cycleway.
A Freedom of Information request to DRD / DfI on all documents relating to this change was met simply with the minutes of a steering group:
Network Traffic Section – Cycling Programme Board

03 Nov 2015
"Discussion centred on the type of bollard and spacing between each one. It was decided by all present to use the way finding type bollard with a 5 metre spacing, however this spacing will be finalised on site."

01 Dec 2015
"Asked the contractor for a bollard spacing of 3m and also a 250mm solid white line."

23 Feb 2016
"It was agreed that 6m bollard spacing would be implemented initially, with the possibility of changing to a 3m spacing if required."

20 Apr 2016
"The group discussed the possibility of altering the wand spacing from 6m to 5m for future schemes. The group decided to stick with the 6m spacing in future schemes."

EIR: DRD/2016-0133
Did TNI's Network Traffic Section (who actually implemented the scheme) overrule the Cycling Unit, whose designs at public consultation included more than 120 wands, not the 62 which are in place today?
While the Cycling Unit produce plans and run consultations, it seems they retain only an advisory role during implementation by the Network Traffic Section. It seems unlikely that the Cycling Unit would hamstring their own scheme, so who overruled the agreed design? And why?
The openness of the consultation exercise led by the Cycling Unit was generally held to be one of the best aspects of the process. That a decision to ignore that process was subsequently taken, with no explanation forthcoming, and no idea of who to approach to get the decision reversed, makes a mockery of that exercise – and undermines trust in future scheme control.
See, whoever took the brave decision to ignore 3m wand spacing *agreed in public consultation* risks making @deptinfra top team look foolish pic.twitter.com/CYzrwiH94r

— NI Greenways (@nigreenways) November 29, 2016
We're left with (literally) a half-done job masquerading as a state-of-the-art cycleway. The issue can't be cost, because contractors installed (presumably) 120 foundation blocks, half of which now lie unused. Can it really just be personal preference?
YEAH YOU BETTER GET OUT OF MY CYCLE LANE

Best to scatter when facing an angry @nigreenways on a mean transportfiets pic.twitter.com/wp3av5Pxpl

— NI Greenways (@nigreenways) April 15, 2016
It leaves a farcical situation where a protected cycleway relies on enforcement to ensure unlawful parking doesn't take place. Instead of foolproof passive enforcement by a few wands placed to prevent vehicle access, instead DfI has placed the onus on contracted parking attendants and the police to regularly check the cycle lane.
Fun things of today: scundered taxi man ticketed by a red coat for squatting in the Alfred St cycleway #yeeeooo 🙂 https://t.co/VASBmEoO3F

— NI Greenways (@nigreenways) April 22, 2016
A single – and so far unaccountable – decision within DfI has led to an unnecessary and wasteful use of resources in external organisations – albeit unlikely to be an issue as wardens and police would (rightly) have many other higher priorities.
Photo shows why protected bikeway poles should be every 2-3 meters, not 8-10. Plus have $500 fine & cars will obey. pic.twitter.com/SA0fKFmYtj

— G_Penalosa (@Penalosa_G) December 5, 2016
The problem with this kind of courageous decision is, that without clear information about why it was made and by whom, public criticism gets aimed higher up – not such a smart move with successive Ministers sticking their neck on the line for active travel.
Missing gatekeepers
The issue of vehicle access to the cycleway isn't limited to this baffling decision on separation wands. While that primarily permits access for illicit parking anywhere along the length of the route, many drivers are actually using the cycleway to drive along.
Also, this happened yesterday: turned out of ClarenceSt, into #binlane & drove along until turning into FranklinSt. pic.twitter.com/tNkDY7p01Q

— Chris Murphy | Críostóir Ó Murchú (@ChrisMurphy201) September 2, 2016
There are two primary ways this highly dangerous situation develops:
drivers who've (unlawfully) parked in the cycleway driving out
drivers turning left from side streets mistaking the cycleway for a left hand lane
I'm past blaming drivers for this – it's happening too often. It's a fundamental design flaw.

— Newton Emerson (@NewtonEmerson) September 2, 2016
The fix for this situation is simple, undesirable for those cycling but necessary at this stage. "Gatekeeper" wands are needed at access roads, in the middle of the cycleway, as a visual barrier to confused drivers and chancer parkers alike. These are already in place at either end of the cycleway.
[wpvideo mnf3Y1jj]
The major problem with the old bollards placed in the Bin Lane were the tightness restricting access for certain cargobikes and trailers, and the critical inability of street cleaning vehicles to negotiate around – leaving broken glass and debris constantly in the middle of the cycle lane.
https://vine.co/v/OVPaZMa6WnA
With the extra width of the new cycleway, access for users wouldn't be an issue, and a simple placement trick would help with this and the cleaning vehicle problem – offsetting the gatekeeper wand a metre or so from the final wand would give extra space for permitted users (and council cleaners) while keeping large vehicles out.
Here's @goQradio literally driving a bus through @PressOfficeDRD's "protected cycleway" design (and public safety) pic.twitter.com/QFTQ8HLsI0

— NI Greenways (@nigreenways) June 23, 2016
If you can drive a bus down a protected cycleway, something has to change.
Pick a side or (whisper this) do we need a cycleway?
One of the main decisions at the initial public consultation was whether to run the new cycle track on the east or west side of the street. Several drawbacks to both options were in play:
On the east side
This was understood to be the Cycling Unit's favoured option at the outset, effectively moving the cycle track from the existing footprint of the Bin Lane across the road.
The main reason for this proposed move was to ensure the flow of users between the Gasworks site and the cycle track did not have to cross Alfred Street at the junction with Ormeau Road. Secondary to this was the easier solution to the crossing at May Street, where cycling traffic would enjoy a signal phase with no potential for conflict as May Street traffic waited at a red light.

The main drawback with this option was a difficult transition from the cycle track on Upper Arthur Street to the junction with Chichester Street. First, cycle users would face constant conflict with cars turning right into Arthur Lane to access the multi storey car park. Just after this it was proposed to add a cycle crossing on the street, with no clear sense of where priority would lie (see diagram above). It was a very unsatisfactory end to the route.

Difficulties with parking directly outside St Malachy's Church, which might impede funerals and other significant occasions but would certainly create daily conflict, was a severe disadvantage for the local community.
On the west side
This was our preferred option and the one selected by TNI following the public consultation. The case was made that retaining the cycle track on the same side as before would help with users expectations. Any existing parking problems would be eliminated by the tight 3 metre wand separation, leaving only two uncontrolled junctions to navigate – the same number on the east side.

While in this configuration users would have to negotiate a messy entrance at the Ormeau Avenue end, all users here would have the benefit of clear sight lines and eye contact when conflict might occur – a definite advantage over the Upper Arthur Street crossing proposed in the east side option.
While the conflict with the church was replaced with the car park entrance to the Department of Infrastructure, it was felt users here would have a keen interest in road safety.

On balance following consultation the west side option was selected. But everyone was blindsided by an unexpected problem.
May Street
If there was one outstanding issue it was the potential for conflict at May Street. Previously the cycle track ended here are a first of soap poles. [Epic typo which will be retained, mostly because I can't actually work out what I meant to say – Ed] Bicycles had to cross on the pedestrian light phase, while vehicles emerging from Alfred Street had a dedicated phase to either turn left onto May Street or continue straight to Upper Arthur Street.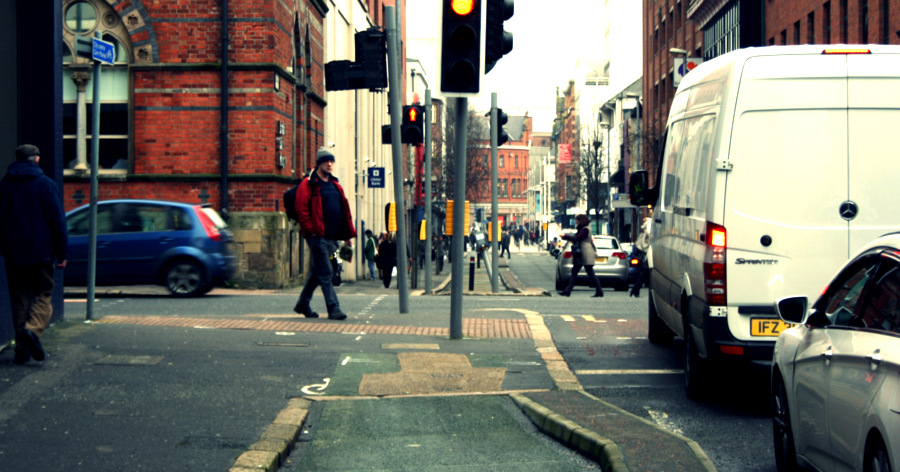 By unravelling pedestrian and cycling movements with a continuous cycleway across the junction, the question of light phasing to accommodate cycling trips and vehicle movements was problematic. However the TNI proposal was to run a dedicated cycle phase and vehicle phase simultaneously, but forcing vehicles to travel ahead only with a left turn restriction – hence eliminating the conflict and solving the problem.
This kind of junction priority was beyond expectations for a cycling project (in Belfast) and was readily accepted. The problem arose because it relies on human nature and trust that people won't turn left when told, but not physically prevented. Where there's a will (or no fear of being caught) there's a way.
[wpvideo pOKmRctC]
Drivers continue to make this unlawful turn every day, through the day. Note that the vehicles are turning across the green-lit two-way cycleway, leading to dangerous conflicts and angry exchanges.
This section holds the biggest regret for everyone involved – for TNI staff who despair at the daily insistence on rule breaking by drivers, and those cycling along the route whose lives are put in danger by selfish behaviour.
https://vine.co/v/iI0W35PIbDZ
Is there a solution?
There are several options which could be deployed:
Passive (CCTV) enforcement
This is probably counter-productive given the rabid campaign the Belfast Telegraph and better media outlets are leading against bus lane enforcement. Drivers blaming their £45-£90 fines on "the cyclists" isn't going to help with the hearts and minds campaign.
Reworked signal phasing
It is possible to split the light phases to allow left turning out of Alfred Street. This would be difficult and would disadvantage all other users of the junction in favour of those emerging from Alfred Street. It would involve less time for general traffic running along May Street, more complex crossing phases for pedestrians and cyclists. An all-green option for all non-motorised users could be a solution, but at the cost of pedestrian / cycling conflict at every phase.
Stopping up Alfred Street and Upper Arthur Street to through-traffic
This was the first point submitted from Bikefast in consultation – cycleways of this nature are inappropriate on streets like these, where traffic reduction or removal should be looked at first.
Here's Belfast's #BinLane (Upper Arthur St) with vehicle traffic removed.. "@AKLdesignchamp: Cool street in Auckland pic.twitter.com/buEdLTHoT6"

— NI Greenways (@nigreenways) March 23, 2015
Somewhat understandably the wheels were in motion on the scheme and large-scale street closure were never likely to be the first project for the Cycling Unit. But this would be the simplest solution to the junction problem and be the beginning of real change on Belfast's streets.
I love how folk are reclaiming Upp Arthur St now the traffic's gone; how it should be permanently #BinLane #Belfast pic.twitter.com/QefHUOASJs

— NI Greenways (@nigreenways) March 8, 2016
Closing the May Street exit of Alfred Street to form a cul-de-sac, only for the benefit of service vehicles requiring access, would take an entire signal phase out of the May Street junction.
Further, closing general traffic access to Upper Arthur Street at May Street would have the additional benefit of creating a new pedestrianised area for the city. Bars, restaurants and cafes like AM:PM, The Chubby Cherub, Dina Dina, Arthur's Coffee House could extend their businesses onto the street. Meanwhile loss of on-street parking isn't an issue with a multi-storey car parking overshadowing the street, and essential servicing and delivery vehicles could have access until 11am from Chichester Street.
The cycleway on Upper Arthur Street could – and perhaps should – be redundant already.
Junction protection – cautious or radical?
This was going to be a problem either side of the street, but with the cycleway installed on the east side there is a reasonable solution.
Cyclesaurus was the name given to the daft little dinosaur tail cycle lane which used to hover over the junction of Franklin Street and Alfred Street. It was ridiculed and feared as a piece of infrastructure that did more harm than good when attempting to add clarity to an already confusing mesh of competing movements.
Major implications: the final killing off of #Cyclesaurus / Son of Cyclesaurus as this lane extends to Ormeau Avenue pic.twitter.com/tQ1olWxZhp

— NI Greenways (@nigreenways) January 21, 2016
Extending the cycleway down to Ormeau Avenue obliterated this weird experiment. But it didn't remove the fundamental issue of a two-way cycleway crossing a highly prized city centre rat run suffering from poor sight lines.
@nigreenways Yeah it's ideal for a shared street, but Franklin St / Sussex Pl junction is a horrible rat run at the moment 🙁

— Ellen Murray ♿🚲 (@ellenfromnowon) January 8, 2014
Bicycle users have three different directions to be wary of (four if counting cars naughtily emerging from a car park the wrong way) and a fearful right turn into Hamilton Street where conflict is coming from left, right and over your shoulder.
[youtube https://www.youtube.com/watch?v=76WG58jOLz0]
Cargobike Dad's excellent article on this cycleway's problems points out that TNI's skimping on wands (as discussed earlier) has directly impacted on junction safety – fewer wands near the junctions allows a wider turning circle for vehicles whose drivers can take the turn at higher speed.
But there is a simpler if more radical solution which chimes with the wider plans to make the Linen Quarter more liveable and reduce rat running traffic through Belfast city centre.
By simply stopping up the small stretch of Franklin Street to the side of DfI's headquarters, immediately the movements at the adjacent junction are reduced from seven (with four crossing the cycleway) to just three with none interacting with the increasingly popular cycleway.
Just like the idea to stop-up Upper Arthur Street, this tests the limits of the ambition of TNI and the clout of the Cycling Unit to go beyond 'cycling schemes' and implement 'complete streets' solutions.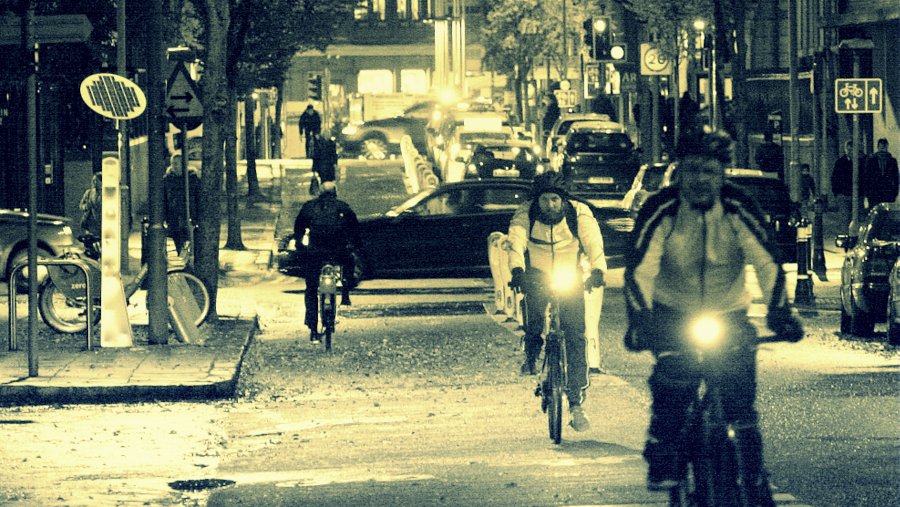 Overall this would eliminate use of Hamilton Street as a short cut to the back of City Hall or towards the Dublin Road, forcing drivers to use the more appropriate 'strategic' routes of May Street and Cromac Street.
---
Six month assessment conclusions
The Alfred Street / Upper Arthur Street Cycleway is an admirable dry run for infrastructure which will extend outward from city centre to suburbs over the next few years. It allows for real-world testing of usage and issues which can crop up and will go a long way to ensuring future schemes are safer for all users.
It is unclear if the review of the project will involve external stakeholders. This is probably essential because it's unclear if the TNI verdict is anywhere close to the Bikefast verdict – it's a flawed scheme in the wrong place at the right time.
When we are developing an overall cycling travel plan for Belfast we need to be taking direct lessons from the Dutch approach. Their sustainable safety principles look at traffic type, volume and speed to determine the level of cycling safety measures which need to be deployed. Alfred Street and Upper Arthur Street simply do not have the intensity of traffic volume or speed to justify any type of separated cycling facilities.
That is not making a case for ripping out the cycleway and going back to the former 'sharing' approach. What we have for now – however flawed – we hold.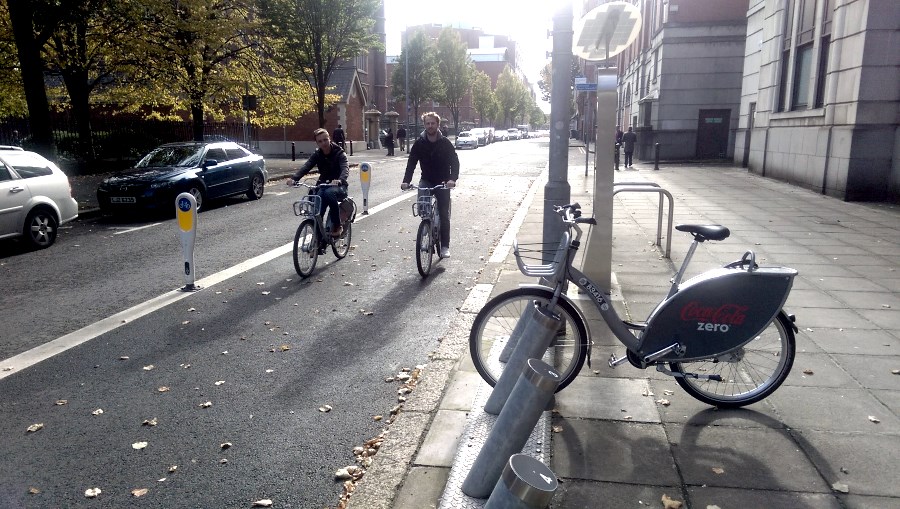 Instead we need to have difficult conversations about removal and constraint of traffic. The two main flows of traffic which interact with the Alfred Street cycleway are vehicles using Hamilton Street to avoid the bus-prioritised city centre – classic rat-running – and a significant volume of drivers circulating to look for on-street parking, adding an element of distraction.
Wider policy plans are beginning to determine the future direction for the Linen Quarter overall, with overlapping responsibilities of Belfast City Council and the Department for Infrastructure. The general thrust is less vehicular traffic within the inner ring, less on-street parking, consolidated off-street parking on the approaches to the inner ring, and even more priority for public transport, pedestrians and cycling within the core.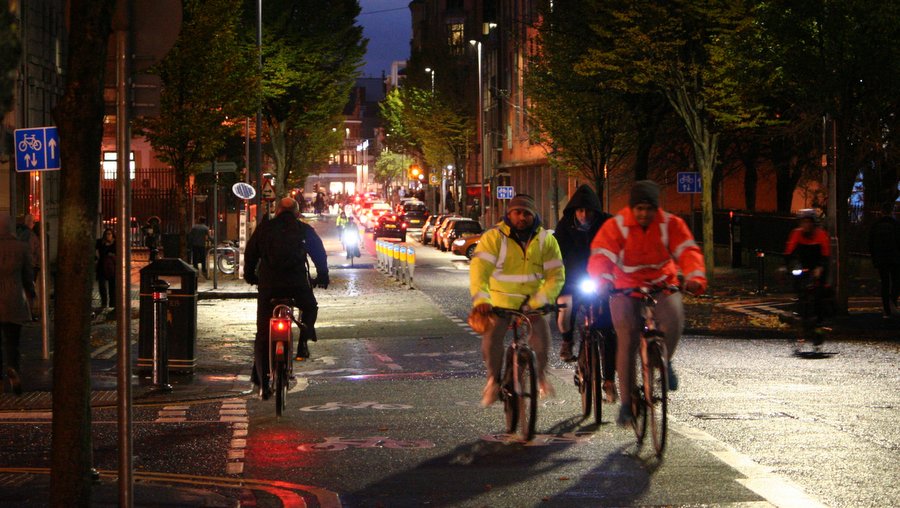 To achieve the kind of streetscapes which would be quiet enough to render separate cycling space unnecessary requires eliminating easy access. There has been talk of cellularisation of the Linen Quarter – stopping up streets and making one-way systems so that vehicles must double back on themselves – but little in the way of concrete planning or action.
Hi @PlanitIE fixed this for you; here's how to radically change movement around vehicle-choked streets of #LinenQtr pic.twitter.com/1eaCkQd0tT

— NI Greenways (@nigreenways) February 6, 2016
Let's celebrate the successes – the key daily problems of bin blocking and invasion of delivery vehicles have largely vanished. This can be put down to the pressure of pride in a high-quality facility, constant usage by cyclists providing a shame factor, and the key addition of new loading space on Upper Arthur Street.
The surface treatment is a wonderfully smooth experience, making it a pleasure to cycle along. It takes a decent cut out of many journeys and provides a protected cycling experience. It links handily with the National Cycle Network.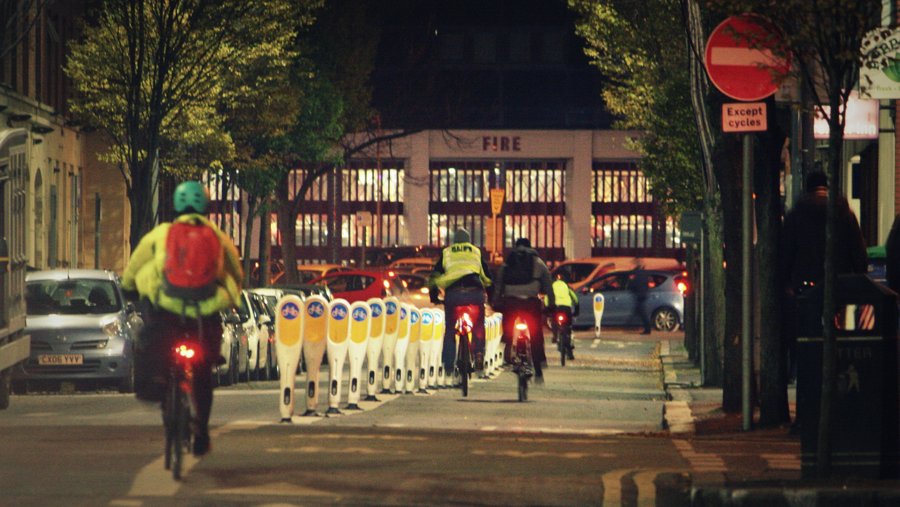 And the huge numbers of people using the cycleway all day every day is a joy to behold showing what can be achieved by the simple idea to support cycling with dedicated facilities – unless you're TV's Frank Mitchell..
Idiot weatherman tweets pic of cycle infra with no moving bikes (sake!) ignores parallel infra with no moving cars.. https://t.co/pwmnq3dvwC

— NI Greenways (@nigreenways) May 4, 2016
The vision for this and other streets within Belfast city centre is simple:
severely limit on-street parking which attracts hundreds of searching vehicles
prioritising the provision of delivery and taxi loading bays and disabled parking
vehicles which do require access restricted to one-way cellularised travel
pedestrian and cycling space opened out with no restrictions on travel
space reclaimed from vehicles opened out to use by local communities and traders
enable good ring road facilities to give vehicle traffic attractive options to avoid core
improve (private & public) off street parking outside inner core at fair market rates
This is physically impossible due to the protected nature of this cycleway. Could you have a word with the laws of physics @deptinfra? Ta. pic.twitter.com/0EZxDX02HU

— NI Greenways (@nigreenways) October 25, 2016
Let's allow the Cycling Unit to be bolder chasing the vision set out in the Bicycle Stragegy for Northern Ireland. Cycling is one part of an overall mix of attempting to reduce Belfast's reliance on the car. Making streets right for cycling and walking sometimes requires a braver solution than a cycleway. The Belfast Bicycle Network Plan due soon will no doubt require this kind of separate, dedicated cycleway on Belfast's main arterial routes – implement it where appropriate, learn these lessons and get it right. And where we don't need cars, make those tougher calls without fear of external criticism or internal resistance.
---
Read more? (fair play to you)
Alfred St – Upper Arthur St cycle path (NI Cycles, 01 Apr 16)