Northern Ireland's Regional Development Minister Michelle McIlveen visited the Netherlands this week as preparations continue for the launch of two masterplans on the Belfast Bicycle Network and a Greenways Strategy for Northern Ireland.
Minister Noord-Ierland bezocht met @pietdeklein Beuningen en sprak over veilige fietsroutes https://t.co/WF1kmbnaop pic.twitter.com/gLGPl2dQBy

— Gemeente Beuningen (@gem_Beuningen) February 18, 2016
Minister McIlveen's low-key visit took in a trip to Beuningen to focus on the 'fast cycle route' between Arhem and Nijmegen and how high-quality dense cycling infrastructure networks enable local children to cycle to school. Northern Ireland's current cycle-to-school levels have registered between 0% and 1% over the last decade.
"Make roads safe for kids to cycle to school" @KlausBondam – NI kids no different from Danish kids 🙂 #NIChangingGear pic.twitter.com/eQQVIbvkiB

— NI Greenways (@nigreenways) October 16, 2014
The Minister's trip also included a trip to Amsterdam to see some of the best urban cycling infrastructure in the world, hopefully taking some lessons to be translated into the current push to make Belfast less reliant on the motor car.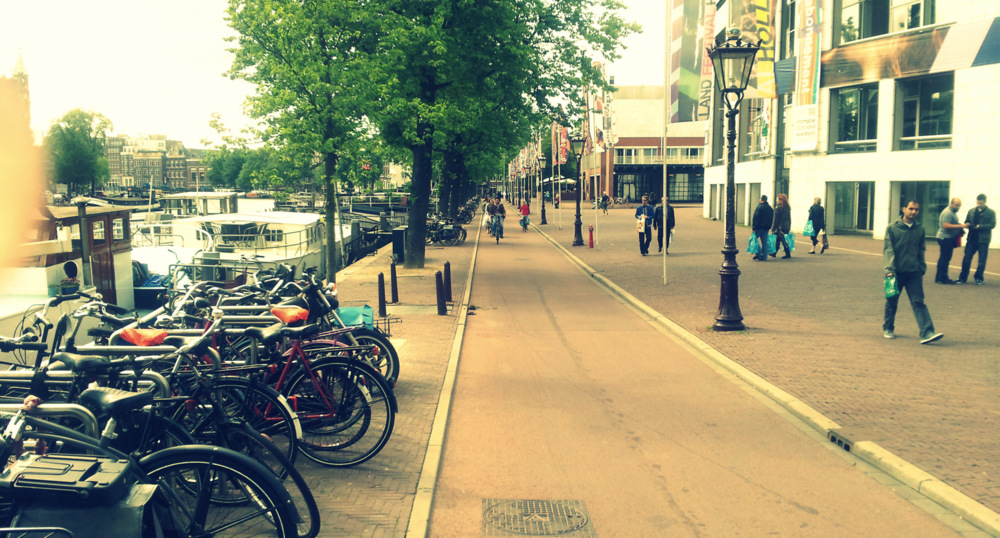 This has been a busy time for the Minister and her Cycling Unit. The previous week saw a trip to Edinburgh hosted by Sustrans to learn lessons from the development of greenways in Edinburgh.
Quick tour of #Edinburgh Greenways with @MMcIlveenMLA & @SustransNI Thanks for visiting. #Sustrans pic.twitter.com/Sk9t7vKkyl

— John Lauder (@John_Lauder) February 12, 2016
It's great to see our Transport Minister keen to learn from best practice and keep the momentum going for cycling development as we approach the Northern Ireland Assembly elections.
See a local Dutch TV report on the trip including an interview with the DRD Cycling Unit's Andrew Grieve.
Read a report on the trip translated into English by Belfast's own resident Dutch cycling expert Cargobike Dad.
For more information on current bicycle network planning and construction in Belfast and across Northern Ireland see the DRD Cycling Unit section of the DRD website.