"We build too many walls and not enough bridges."
This saying (despite its disputed origin) resonates here in Belfast. Twenty years after the Good Friday Agreement we still retain and maintain so-called "Peace Walls" to divide our city and people. Local communities are working hard to consign these fault lines to our troubled history, but bridge building isn't just an activity we should restrict to the hearts and minds of estranged communities – Belfast needs to get back into the business of creating city links with physical bridges.
Belfast was founded at the mouth of Carrickfergus Bay (now Belfast Lough) on a sandy ford which provided a critical crossing point of the River Lagan. As the settlement grew through its important trading position, a long bridge (called, "the Long Bridge") was built here to make a more permanent link with County Down, where Queen's Bridge now stands at the end of Ann Street.
Long Bridge, Belfast pic.twitter.com/gKkT08IXkx

— Belfastpast (@Belfastpast) October 23, 2016
Today seven multi-mode bridges carry people and vehicles between the east and west of the city from the harbour to the outer ring at Malone – listed here from north to south:
Queen Elizabeth II Bridge
Queen's Bridge
Albert Bridge
Ormeau Bridge
King's Bridge
Governor's Bridge
Shaw's Bridge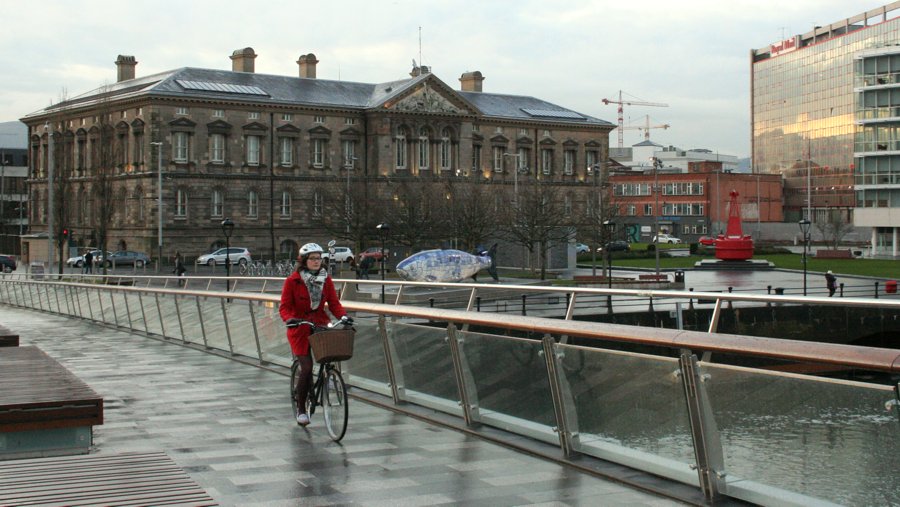 The most recent large-scale bridge project in the city was the Lagan (M3) and Dargan (rail) cross-harbour connections built in the 1990s.
A footbridge which was included almost as an afterthought in the Lagan Weir project became so popular over the years it had to be upgraded in 2015. It now stands as a civic centrepiece of the city centre (although that relatively modest investment was still controversial enough to get Stephen Nolan hot under the collar).
//embeds.audioboom.com/posts/2560503-a-belfast-bridge-too-far-row-over-plans-for-new-5-5-million-lagan-footbridge-bbcnolan/embed/v4?eid=AQAAADcFIlj3EScA
Another footbridge clings on to the Central rail bridge at May's Meadow. The Connswater Community Greenway is doing great work in providing several smaller bridges across East Belfast, including the iconic Sam Thompson Bridge. But big bridge projects have been thin on the ground, and interestingly no bridge in Belfast has dedicated space for cycling.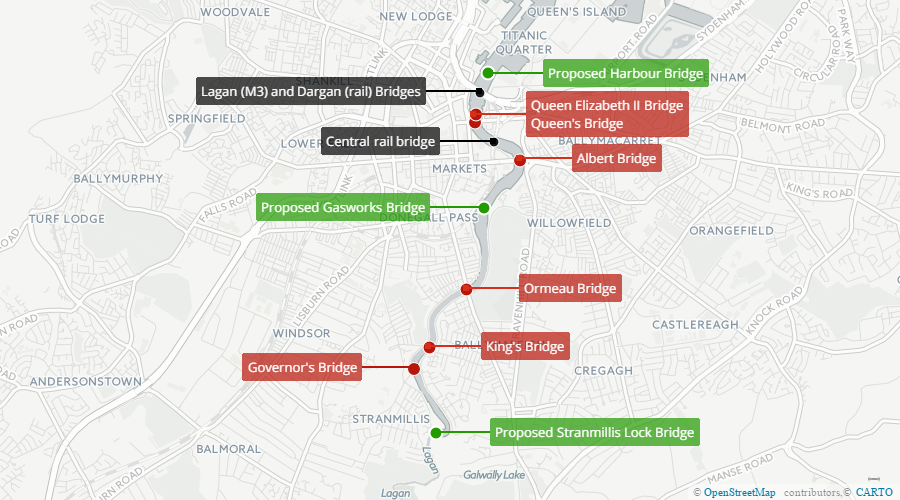 With a fast-developing city, choked with too many vehicles, and a new focus on active travel to alleviate the congestion, it's a great time to plan some new bridges, and look at how to improve some existing crossings for non-motorised users.
NEW BRIDGES
Gasworks Bridge
The Gasworks Bridge is practically shovel-ready and is a cornerstone of the future plans for cycling in Belfast. Proposed for years, first as a motorway, then a link road, finally as traffic-free bridge between the southern tip of the city centre and Ormeau Park, it finally gained real momentum in 2013.
[youtube https://www.youtube.com/watch?v=MkVQrjnKHW4]
Planning permission was granted in February 2016 and all that stands in the way is capital funding. It lies on the National Cycle Network and would provide a much-needed short cut into the south east of the city – enhancing the already serious modal shift in the top cycling area of Belfast. This one structure is so pivotal to the plans for Belfast's cycling revolution, it stands as the canary in the coal mine – if it falls, the revolution is in big trouble.
Giant's Park Bridge
The multi-million pound development of Belfast's 340 acre former landfill site in Belfast Lough promises to attract great investment, jobs and leisure facilities. However, the site is cut off from North Belfast by the adjacent M2 motorway.
[googlemaps https://www.google.com/maps/embed?pb=!1m13!1m11!1m3!1d2526.509793957082!2d-5.918126712758444!3d54.63758614725723!2m2!1f0!2f0!3m2!1i1024!2i768!4f13.1!5e1!3m2!1sen!2suk!4v1478604010611&w=900&h=500]
The National Cycle Network runs between Giant's Park and the motorway, with a great connection between Newtownabbey and Belfast city centre. But accessing the site from the Shore Road requires a desolate chug up a winding, four-lane motorway access road and huge roundabout. Traffic speed and volume, along with the gradients, make this an unattractive place to cycle or walk, and unsafe for unaccompanied children.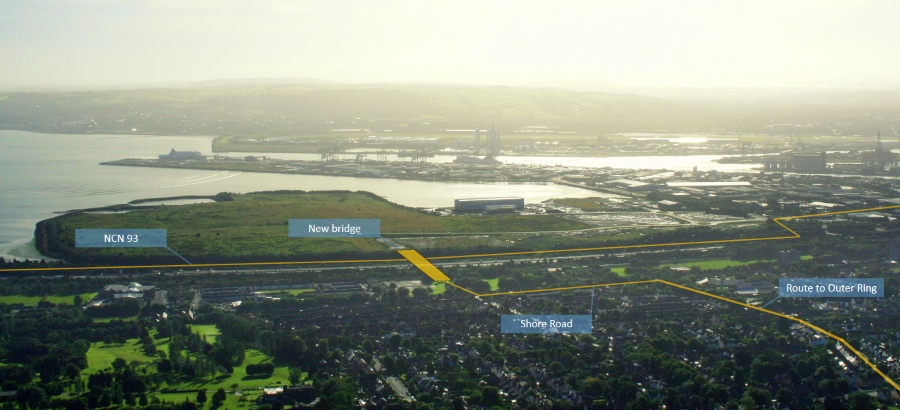 Building a bridge from Loughside Park and playing fields across the 10 lane motorway straight into Giant's Park would provide a real alternative to car travel. It would have the benefit of providing a traffic-calmed link from the outer ring at the North Circular Road and down through Parkmount Road, which should form a major part of the future Belfast Bicycle Network.
Harbour Bridge
Plans in the Belfast City Centre Regeneration and Investment Strategy 2015 show the intention to build a traffic-free bridge across Belfast Harbour to link Claredon Docks and City Quays with Queen's Quay and Titanic Quarter.
This would shorten journeys between North and East Belfast, tipping the balance in favour of cycling as both a commuting option and to access the leisure hub of the SSE Arena and Titanic Quarter.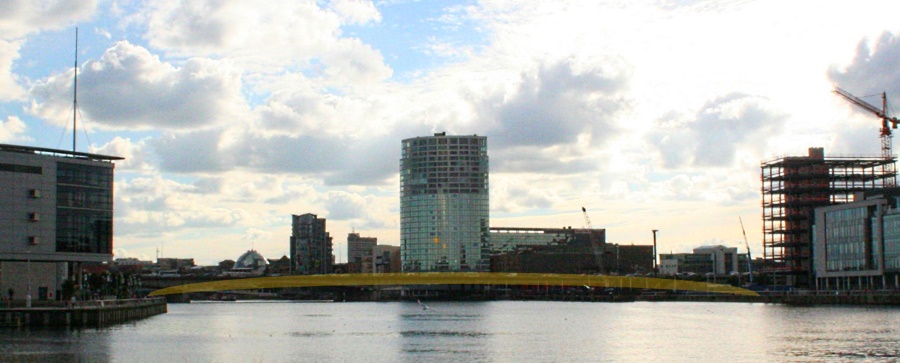 As the Strategy document outlines:
"The Odyssey [SSE Arena] and Titanic Quarter, close enough to walk to from the core if only there were a pleasant way to do so, can be made perceptually much closer by a bridge from City Quays to the Odyssey. As Titanic Quarter continues to develop its residential, office, institutional and cultural offerings and as the Odyssey Trust begins to develop its surface car parks, convenient access across the river will become even more critical."
Stranmillis Gateway
Plans by Belfast City Council and other government bodies to re-open the Lagan Navigation from Belfast to Lough Neagh will begin with a new lock and traffic-free bridge project at Stranmillis:
"The Lagan Gateway Project (Lock 1) includes the development of a gateway lock. The new lock chamber will be located within the existing overflow channel at Stranmillis Weir with moorings, slipway and jetties.

"The design incorporates a ramped non-vehicular bridge which will not only provide a link between Annadale Embankment and Stranmillis, but can also be used as an observation platform."
Plans Submitted for #Gateway Project on River Lagan at #Stranmillis, Belfast. Project Info: https://t.co/6ea2mVlUvw pic.twitter.com/AZGm5Re2y1

— CISireland.com (@CISireland) January 21, 2016
This would open up a crossing between the heavily-used towpath on the western side of the Lagan with the lesser-utilised eastern shore. A link between the lock bridge and Annadale would shorten journeys between Forestside and areas of Malone
CYCLING RETROFITTING
Albert Bridge
The Albert Bridge is a pivotal crossing from East Belfast to the city centre, and will become a more contested space in the next few years. It links the Albertbridge, Castlereagh, Cregagh and Ravehill corridors to the city, provides a short-cut escape to the M3 bridge and is vying with the Ormeau Bridge in terms of importance to city cycling.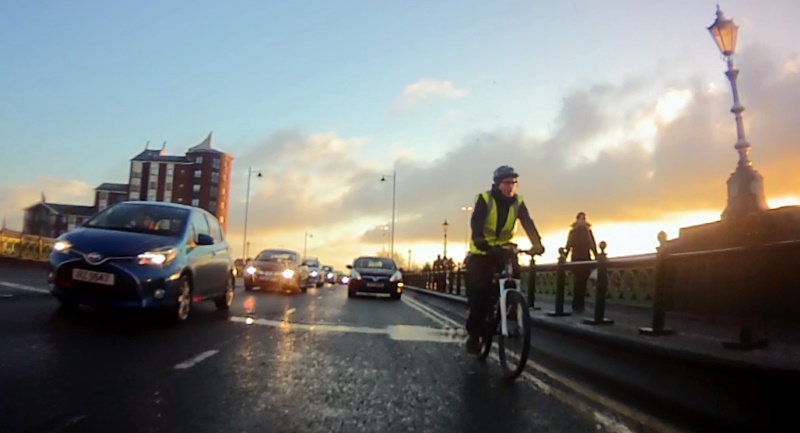 It sees significant pedestrian footfall and will likely reduce down to two general traffic running lanes by 2018 to cater for Belfast Rapid Transit.
[youtube https://www.youtube.com/watch?v=XeqJlqWCti4]
In this context dedicated space for cycling is unlikely to happen by simple roadspace reallocation, so another solution must be sought. A simple option is the addition of new pedestrian space to either side of the bridge – additional walkways bolted on to the outside.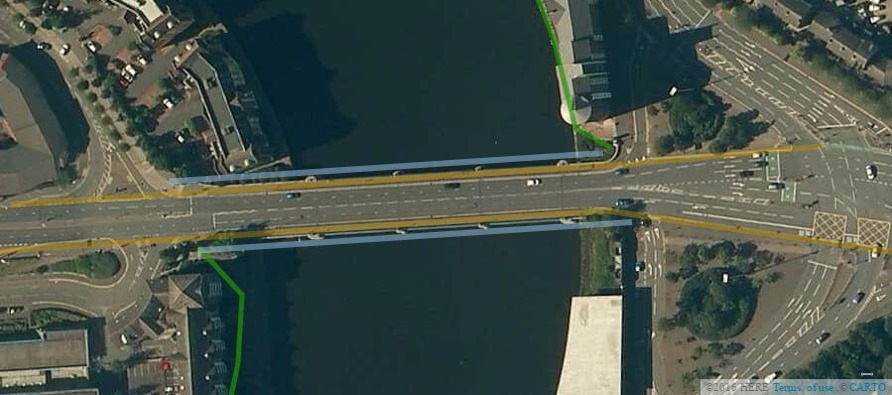 This would free up the existing footpaths to be repurposed as dedicated one-directional cycleways, and allow for a safe and high-quality cycling infrastructure to be built up on approaches to the bridge where space is not an issue.
Queen Elizabeth II Bridge
The current cross-city cycling route being constructed from the Westlink to Titanic Quarter is reaching its most interesting phase – High Street and Middlepath Street.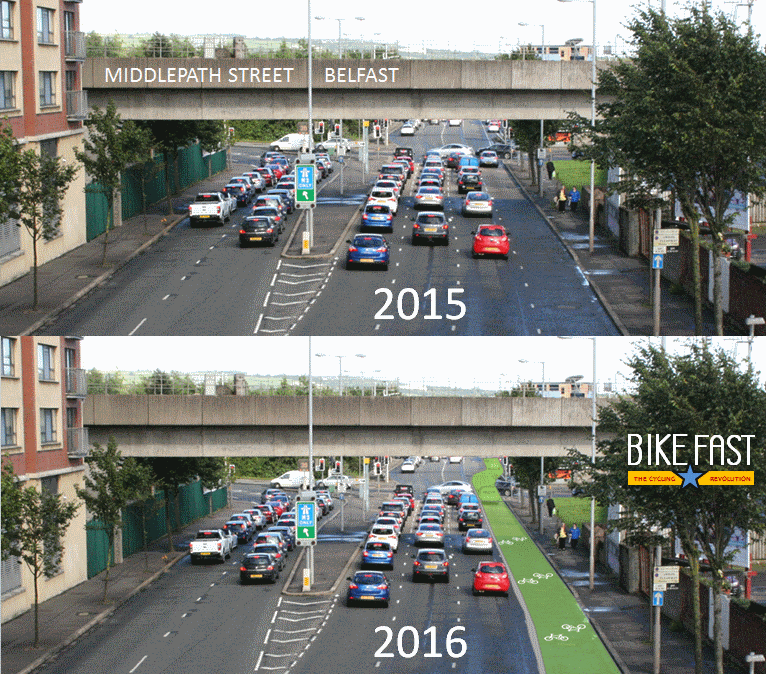 High profile road space reallocation of a kind not seen in Belfast before will cause ripples locally (an argument now shifted into 2017) but one area which should be addressed is the balance of modes on the Queen Elizabeth II Bridge.
Current proposals see the two-way Middlepath Street cycleway (above) terminate at a pedestrian crossing before the bridge. In order to cycle towards the Waterfront Hall / Law Courts / Ann Street cycleway, you'll need to stop at this eastern end, cross over to the shared footway on the north side, head over the bridge, then cross again at the western end.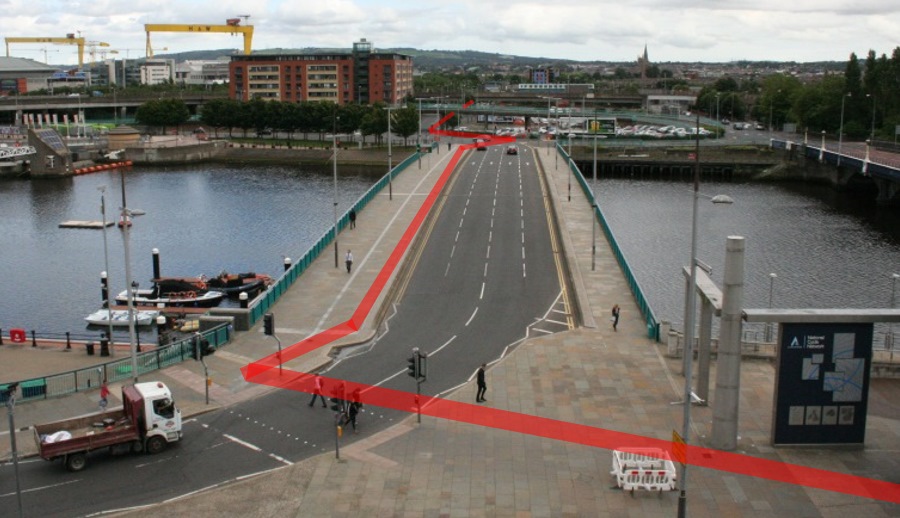 A much simpler solution is to continue the cycleway across the bridge, removing the mostly redundant fourth lane. It also gives those travelling from the City Quays / High Street side two controlled crossing points, leading again to faster journeys.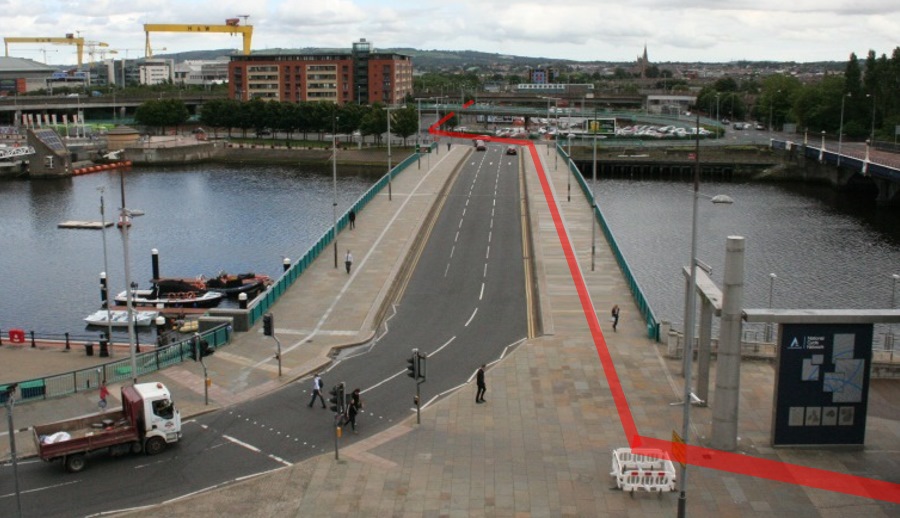 Ormeau Bridge and King's Bridge
Back in the mists of 2001 the DRD minister was none other than Gregory Campbell (yes, yer man from the Nolan Show) and perhaps the earliest flickering of a cycling revolution in Belfast was centred in Stranmillis. As part of a new dedicated cycleway along the banks of the Lagan, a safe way across the blind hump of Governor's Bridge carriageway was needed. The solution was "Ireland's first" bridge cycling underpass, constructed so as to dive under the high water line and avoid any traffic interactions.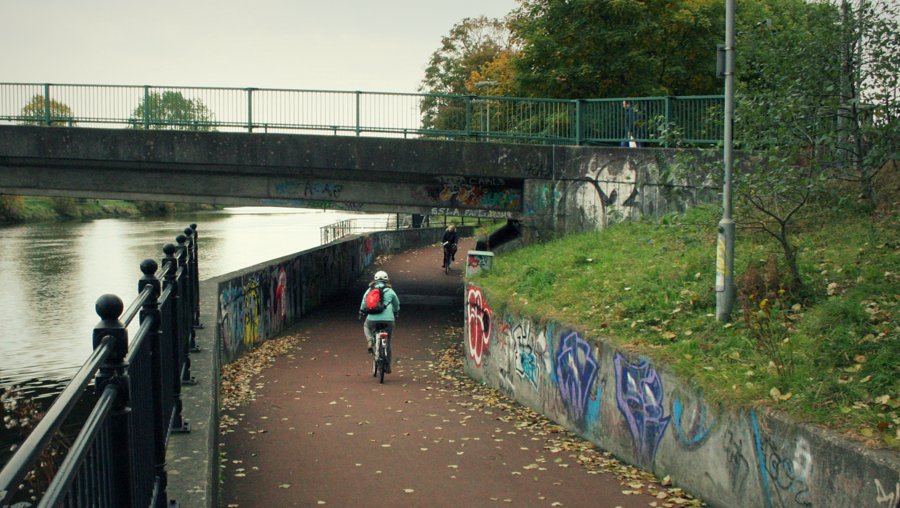 The innovation has played a critical role in the success of the Stranmillis Embankment cycleway and helping South Belfast to become the city's main cycling heartland.
Yet 15 years down the line and very few improvements have been made to this (now) key route. The most glaring inconsistency is that the next two bridges into the city centre lack equivalent traffic-free underpasses, on what are more heavily used crossings.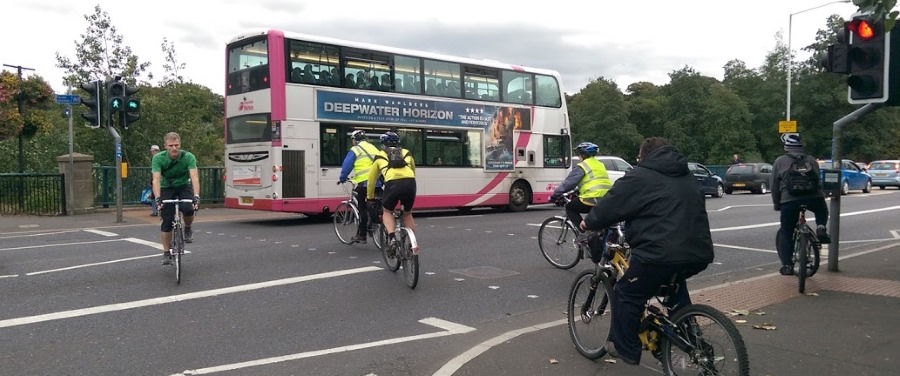 The Ormeau Bridge has a fancy new puffin crossing but the sheer weight of cycling movements at peak times is causing great difficulty for everyone using the shared footways.
Three successive crossing phases @TheOrmeauRoad Bridge, beating heart of Belfast's Cycling Revolution pic.twitter.com/9opYqBFTOZ

— NI Greenways (@nigreenways) June 7, 2016
While there may be clearance and structural issues to consider, it would be worth looking into the feasibility of adding underpasses to both the Ormeau Bridge and King's Bridge on the western bank.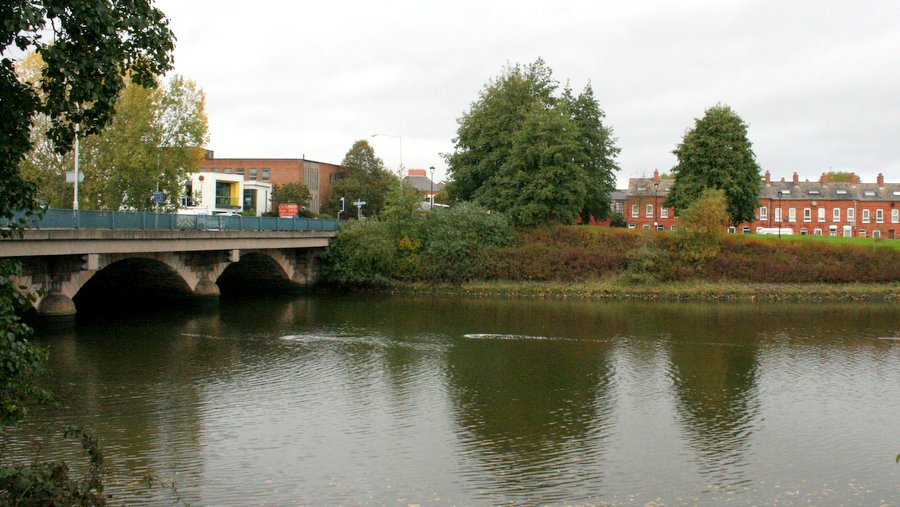 This would reduce journey times for cycling, going some way to learning the lessons of "fast cycle route" development in the Netherlands which our previous Transport Minister visited earlier in 2016.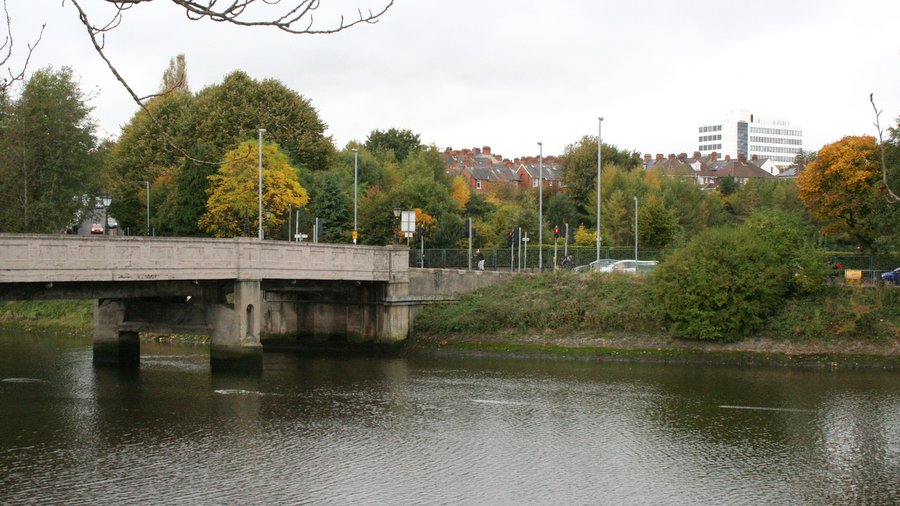 It's important that we focus not just on creation of new cycling routes and connections in Belfast, but seek to continually improve existing facilities as we strive to make the bicycle more attractive and congestion more avoidable.
---
What do you think of these bridge ideas, and do you have any suggestions of your own for Belfast? Let us know in the comments below, and share the article on social media if you get a chance.