CS Lewis Square, the centrepiece of the £40 million Connswater Community Greenway in East Belfast, officially opened last night in a massive family party. Tucked away within that magic tale was another piece of a wider story arc – a bold eastward extension of the Belfast Bikes scheme.
https://twitter.com/stevenpatt99/status/801192185861443584
CS Lewis Square should develop Holywood Arches into the urban heart of east Belfast, providing a space for residents and visitors to use for events and activities.
Only a few days before the launch event we got signals that a Coca-Cola Zero Belfast Bikes Station was to be installed on the site.
Good to see @BelfastBikes being installed in time for the opening today. Cc @nigreenways #CSLSquare #cyclingni pic.twitter.com/W920V8smrj

— Connswater Greenway (@ConnsGreenway) November 22, 2016
Belfast City Council confirmed the immediate operational launch of the station:
"The CS Lewis Square docking station is being jointly funded by the NI Executive's Urban Villages Fund and Belfast City Council. CS Lewis Square station has 16 docking points.

"Another 10 bikes are being added for the CS Lewis Square expansion. This brings the total number of bicycles in the Coca-Cola Zero Belfast Bikes scheme to 393.

"We are launching a further three docking stations in East Belfast to link up the CS Lewis Square docking station with our existing network. Exact locations are still being negotiated."
We're at #CSLewisSquare!
Cycling "brings a delicious whiff of memory" ~CS Lewis, Talking About Bicycles
Sign up at https://t.co/tjjnc9abO9 pic.twitter.com/9IdWigkqwg

— Belfast Bikes (@BelfastBikes) November 22, 2016
What makes this expansion significant is the thrust away from the original core of the scheme within the city centre; it's the most remote station installed to date, at almost 3km distance from City Hall.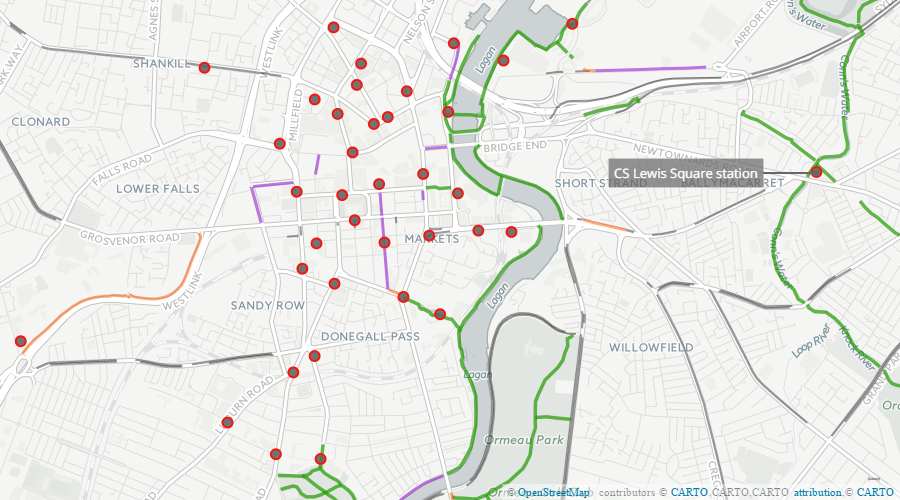 Residents around the Holywood Arches now have a genuine commuting link with Belfast city centre by public hire bike, as do the many workers in Connswater Retail Park.
The station lies far outside the 300m-500m radius of adjoining stations which has governed location spread to date, so it's good to see immediate supporting stations being delivered to bridge the gap.
Wow, huge implications: almost 3km from City Hall (with a traffic-free route) as @BelfastBikes targets commuters 🙂 https://t.co/C7yUgKnkj2

— NI Greenways (@nigreenways) November 18, 2016
And it seems the 'interim' expansion, ahead of the official Phase Two of Belfast Bikes growth, hasn't finished yet.
"Docking stations at Falls, Carlisle Circus and Grosvenor Road still to be installed once planning approval granted. Further expansion plans still to be agreed but will be subject to funding Council approval."
CS Lewis Square lies at the crossing point of the two Belfast greenways – Comber and Connswater – a crossroads that offers a cycling corridor 7 miles eastward to Comber, northward to Victoria Park and the North Down Coastal Path, and westward into Belfast city centre and Lisburn and Newtownabbey beyond.
Fantastic night at East Belfasts CS Lewis Square. Many thanks to @ConnsGreenway for their vision #CSLSquare https://t.co/ailcrrdoXP

— Gavin Robinson (@GRobinsonDUP) November 22, 2016
The southward portion along the Connswater Greenway is still under construction, with the link across Connswater Retail Park and Avoniel expected to complete in the New Year.
Recently opened sections beyond now permit traffic-free travel from The Hollow at Beersbridge Road through Orangefield Park and the Marsh-wiggle Way as far as Braniel.
(Main image by Steven Patterson, used with permission.)