Belfast City Council is planning to proceed with Belfast Bikes expansion after a successful first year which has "exceeded expectations". The public are being urged to get involved in shaping the future of the scheme, and the lessons from the first year point to some interesting learning.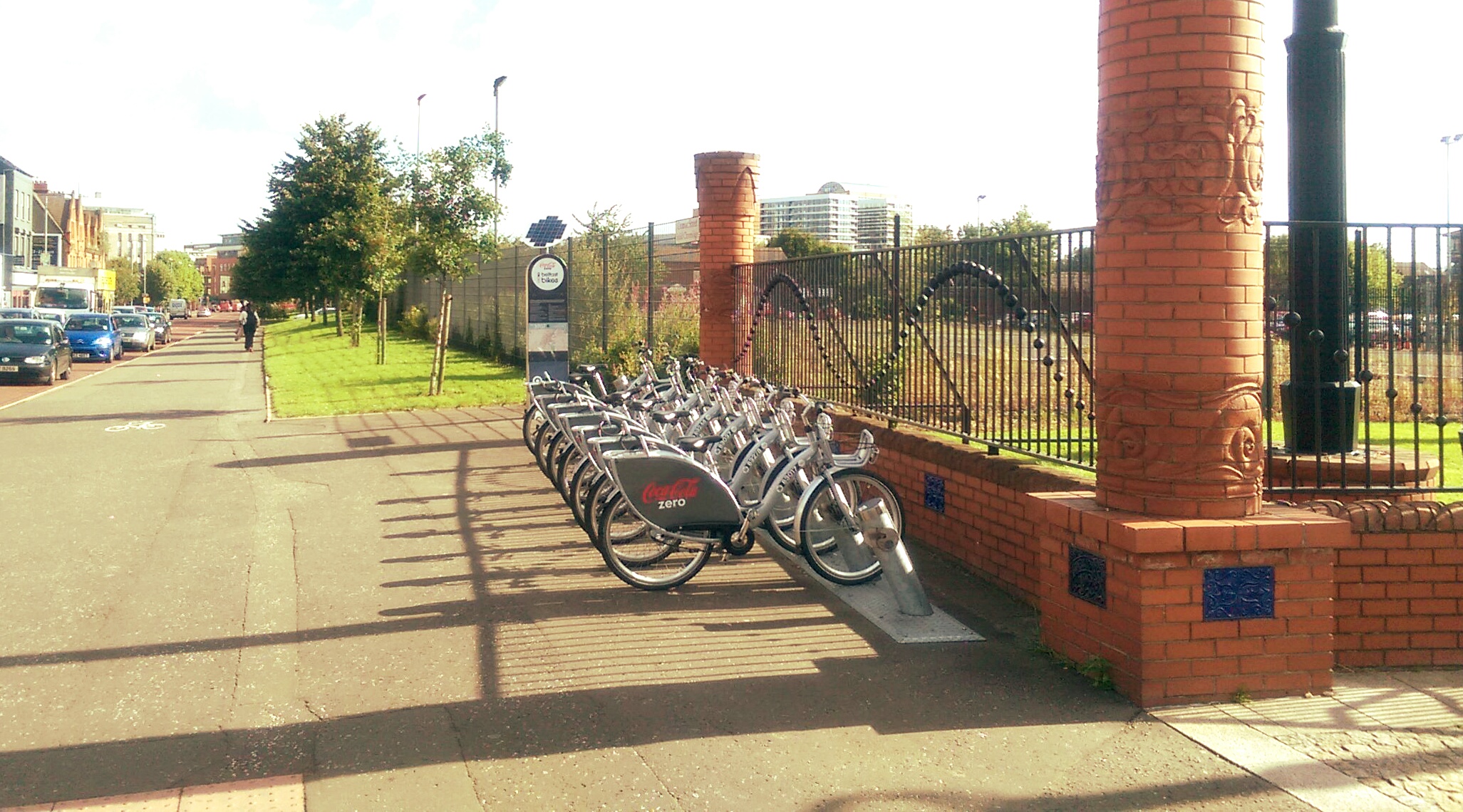 The Coca-Cola Zero Belfast Bikes scheme launched in April 2015 with 300 bikes at 30 docking stations. Interim expansion added three docking stations at Titanic Belfast, Queen's University Student's Union and McClay Library in 2015 and in summer 2016 two more stations came online at the Royal and City Hospitals. A station is also due to open at the Mater Hospital.
Our Hospitals Become The Latest Locations To Benefit From @Belfastbikes https://t.co/kEWheE2eXI pic.twitter.com/JVZDRFVRtX

— belfastvibe (@Belfast_Vibe) August 3, 2016
More interim expansion stations are planned to be funded by public and private sector organisations, with firm plans in place for a further six stations in Lower Shankill, Lower Falls and Oldpark.
Now Belfast City Council are gearing up for the major "phase two" expansion of the scheme outward from the city centre. Expanding the scheme beyond the current 35 and planned 42 stations is being "informed by a review of Year 1 performance, stakeholder feedback, good practice and financial analysis". Before looking at the thinking behind expansion, here's five things we know from Belfast Bikes year one:
1. Belfast Bikes has proved very popular
This we have known for a while – and was a major concern when grafting a public bike hire scheme onto a city with virtually no cycling infrastructure near the stations – but it has been a pleasant outcome and worth reflecting on again:
"The number of journeys has exceeded expectations with more than 191,000 journeys in Year 1; which compares favourably to other schemes such as Glasgow which achieved 50,000 journeys in its first 9 months despite having a larger scheme of 400 bikes."
250,000 journeys and counting ! pic.twitter.com/9OO1GizJoB

— Belfast Bikes (@BelfastBikes) July 21, 2016
The Cycling Unit within the Department for Infrastructure will go out to consultation on a Belfast Bicycle Network Plan this autumn. This will hopefully provide a strong backbone of dedicated space for cycling to enable safe and pleasant cycling conditions across the city, and encourage greater uptake of Belfast Bikes.
2. Expansion should factor in clear commuting demand
The original footprint of the Belfast Bikes scheme was concentrated within the city centre core. Belfast suffers from a lack of a resident city centre population, a legacy of the Troubles. This potential mismatch led to fears that commuting would not be a major trip generator for Belfast Bikes. However usage patterns in the first year show Belfast folk are determined to use Belfast Bikes in the rush hour.
"There are greater levels of use from Monday-Friday than at weekends, the most popular hire times are between 8-9am and 5-6pm – which suggests higher levels of commuter use – and levels of use fall proportionally across the week during the winter months."
Dull morning riding the bus to work when everyone else seemed to be riding a bicycle 🙁 @Belfastbikes pic.twitter.com/g6cO914btt

— NI Greenways (@nigreenways) August 10, 2015
This should be a key consideration in the next phase of expansion. Extending the 'commuting range' potential for Belfast Bikes can begin to significantly impact on vehicle traffic levels on key arterial choke points and overall congestion, and contribute to public health aims of a more active resident population. However the demands on rebalancing of bike levels at these peak times will pose a challenge to scheme operators NSL.
3. Customer usage is not uniform across the city
Private bicycle usage in Belfast has traditionally been skewed to south and east of the city, and Belfast Bikes has mirrored this trend.
"A number of stations show low levels of use. The current level of rentals/returns for stations in the north and west is low compared to the east and south sectors of the city which experience the highest demand. It is recognised however that the changing demographics of the city centre, and in particular with the development of the Ulster University campus, may impact upon these trends in the longer term."
https://nigreenways.files.wordpress.com/2014/03/nsewbelfast.png
With new stations opening to the south west at the City and Royal hospitals, big trip-generators lacking from the initial phase are now in the orbit of the scheme. The physical disconnection of the inner city caused by the Westlink "shatterzone" no doubt contributes to the lack of uptake in these areas. A fuller expansion which reaches to the local shopping and community hubs just beyond, and crucially with dedicated bicycle infrastructure to link them to the city centre, should make a difference.
4. Vandalism remains an issue
Damage to the scheme's infrastructure has been ongoing since before launch, but not to a degree which sets Belfast apart from any other city with a similar scheme.
"The level of vandalism and theft has been problematic at a number of sites but instances are constantly monitored and managed through the operator contract."
bike in water on tow path off Ormeau Bridge, opposite Kinallen Street. Pic didn't send on app pic.twitter.com/MsXCbYlXLm

— Louise Convery (@louiseinNI) August 17, 2016
Vandalism repair costs are covered by the scheme management contract up to £1,000 a month, with the council bearing any costs above that. It's unlikely that low-level theft and damage will be eradicated.
5. Subscription levels and costs are concerns for Belfast City Council
So the number of journeys has been praised – but what about those targets for user sign-ups?
"The number of annual subscribers is below original estimates and the resulting impact upon the net cost of the scheme must be factored into the Strategic plan. Officers will therefore review the current pricing and subscriptions model and recommendations will form part of the Strategic Plan."
One key suggestion for the next phase should be an increase in the marketing spend to attract new customers, noticeably lacking in year one but improving recently. The £20 annual subscription is a fantastic deal and should be kept as low as possible – it compares favourably to similar schemes (Dublin €20, Glasgow £60, London £90, New York $155). Corporate membership packages should be trialled and free trial periods used to encourage first time use by prospective members.
We're in @CastleCourt again today until 2pm for the store's #GreenMonth! Pop in & say hi 🙂#sustainabletransport pic.twitter.com/lXlYQUpP6p

— Belfast Bikes (@BelfastBikes) May 20, 2016
Expansion costs may create a headache for councillors and residents over the next year:
"As an indicative cost for consideration each new station costs on average £30,000 in capital and approximately £4,500 per annum as a running cost. Therefore decisions on where and how our expansion should work will have significant financial implications…implementation of the scheme would remain subject to available resources and consideration on the Council's capital programme."
Decisions on the funding of the scheme will need to be carefully analysed to determine the overall benefits to the economy, city transport issues and public health. Capital injections from private developers, large anchor companies and government organisations with stakes in the beneficial outcomes should be encouraged.
Strategic plan for Belfast Bikes expansion being developed
A number of expansion models are currently being explored:
concentric (consistent outward expansion from the existing scheme)
arterial (expansion along key arterial, commuter routes)
standalone (schemes in defined outlying areas that are sustainable as 'standalone' schemes and do not necessarily relate to the existing phase in the city centre)
A concentric expansion makes the most sense for a city the size of Belfast. Interim expansion has been focusing mainly on the area to the west of the city centre, meaning a concentric expansion can fill the gaps to the east and south – the prime target market as we have seen. However, a general city-wide expansion of roughly two stations outward would mean a doubling of the scheme for little more than a half mile extension.
@Belfastbikes Ormeau Park crying out for a bike station – it would give me 30mins of my life back everyday 🙂 pic.twitter.com/1LKTaWaoVc

— The Nordic Nordie (@pinkpeugeot) April 8, 2016
An arterial expansion would be less desirable for minimising potential for short journeys in any direction, but would have the benefit of a more cost-effective expansion. Filling in gaps between the arterial spurs could then be gradually rolled out based on user demand.
Standalone expansion schemes seem the least attractive overall – running contrary to the rigid 300m-500m spacing pattern which so restricted the initial footprint. While Belfast has a number of identified community hubs around arterial routes, the city is small and lacks outlying suburban village or town style centres like in London, which might make standalone schemes self-sustainable.
Get involved in the Belfast Bikes survey
You have until midnight on Sunday 21st August 2016 to complete a Belfast City Council online survey which will help to shape the expansion plans – including your own suggestions for where new docking stations are required. Submit your views on Belfast Bikes now!
@Belfastbikes … BIKE BUDDIES 🌎💚 pic.twitter.com/2asriRgI0i

— Victoria Maxwell (@vicsboyle) June 27, 2016