81% of people in Belfast want more protected bike routes to make cycling safer, even when this could mean less space for other road traffic, the UK's biggest assessment of cycling in cities has revealed.
Belfast is one of seven UK cities taking part in the Bike Life project which reports every two years on cycle infrastructure provision, travel habits, attitudes towards cycling, and the impact of cycling more widely, produced by Sustrans in partnership with the Department for Infrastructure.
Almost three-quarters of Belfast residents surveyed support more investment in cycling, with 71% saying Belfast would be a better place to live and work if more people cycled.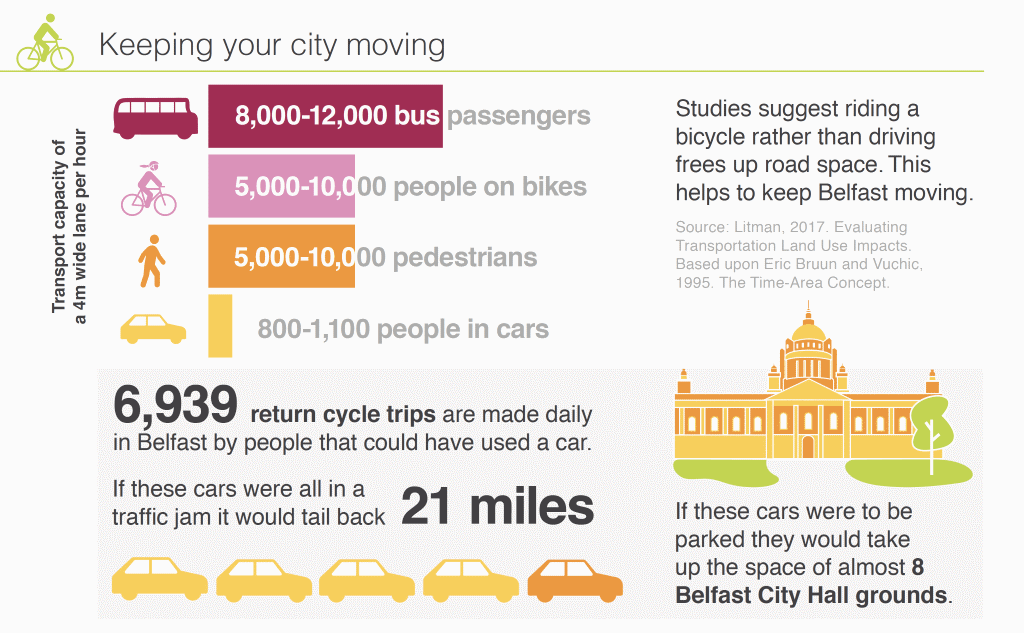 Bicycles currently take nearly 7,000 cars off Belfast roads every day. Parking all these cars would take up the space of almost eight City Hall grounds and if all these cars were in a traffic jam this would equate to 21 miles – the distance from Belfast to Craigavon (as the crow flies).
This year's report reveals that out of the 1,100 people surveyed in Belfast, 65% would cycle more if segregated on-road cycle routes were created – these are usually physically separated from both motor traffic and pedestrians with kerbs and bollards.
In fact people who said they never ride a bike still overwhelmingly support the provision of segregated routes (79%) even when this could mean less space for other traffic.
The report found there are 53 miles of routes segregated from vehicles in Belfast, an increase of only 3 miles from 2015. Only 30% of people think cycling safety in Belfast is good but as many as 54% said they would like to start riding a bike or could cycle more.
There are a paltry 56 railway station parking spaces for bikes, equivalent to one parking space for every 274 passengers per day, while the 769 public bike parking spaces in the city centre includes only 50 added since 2015.
Belfast Lord Mayor, Nuala McAllister who is helping to launch the report said:
"This project provides us with important analysis of cycling and helps us to improve infrastructure and the conditions to make travelling by bike possible for more of us.

"The report shows we still have a long way to go to increase the number of people cycling in Belfast, to make it a really bike-friendly city but Belfast's first Bike Share Scheme has really helped promote cycling and normalise it as a way of travelling in our city."
Gordon Clarke, Sustrans Northern Ireland Director said:
"Bike Life shows that most people in Belfast think cycling is a good thing and are far more supportive of bold and ambitious plans for cycling than decision makers often think. They want dedicated space for people on bicycles even when this means taking space away from cars."
Peter May, Permanent Secretary of the Department for Infrastructure said:
"An increase in the number of people walking and cycling is one of the important elements contained in the draft Programme for Government. This report has gathered some key data that will help guide the ongoing development and operation of the bicycle infrastructure and associated engagement programmes over the coming years.

"It sets out what we have improved and also highlights the things we need to focus on to give people the freedom and confidence to travel by bicycle for their everyday journeys."
Mary Black, Assistant Director of Health and Social Wellbeing Improvement with the Public Health Agency (PHA), said:
"Physical activity is a great way to improve your health. Recent research by the University of Glasgow, published in the British Medical Journal, found that commuters who cycled were associated with a 41% lower risk of premature death.

"Being more physically active can reduce your risk of developing chronic conditions including heart disease, stroke, type 2 diabetes, cancer, respiratory conditions and dementia. It also improves sleep, helps maintain a healthy weight and reduces stress and anxiety."
Key stats Belfast Bike Life 2017
£16million is the total annual benefit to Belfast from people riding bikes for transport and leisure
6.7 million trips made by bike in Belfast in past year
5% of Belfast residents usually cycle to and from work
Bicycles take up to 6,939 cars off Belfast's roads each day, equal to a 21 mile tailback
People cycling in Belfast saves the NHS £392,000 annually, equivalent to the cost of 17 nurses' salaries
The original Bike Life report was published in 2015. It reported that a majority of people (75%) supported £26 per head investment in cycle infrastructure.
Bike Life mirrors the Copenhagen Bicycle Account which outlines the development in cycling, identifies challenges and informs planning. The Danish capital of Copenhagen is the most-bicycle friendly city in the world with investment since 2004 of over £35 per head on cycling and a network of segregated cycle routes on almost all main roads and bridges across the city. In 2016, 62% of Copenhagener's trips to work and education in the city were made by bike, and 76% said they felt safe when cycling (Copenhagen Bike Account, 2016. Copenhagen City of Cyclists).
Download the full Bike Life 2017 report from the Sustrans website.
Comment
The headlines are good and the survey findings makes sense (again) – but is anyone at the Department for Infrastructure (DfI) prepared to back it with commitment, capital, priority or (God forbid) space on arterial roads to deliver a safe city network for cycling?
Take this finding for example: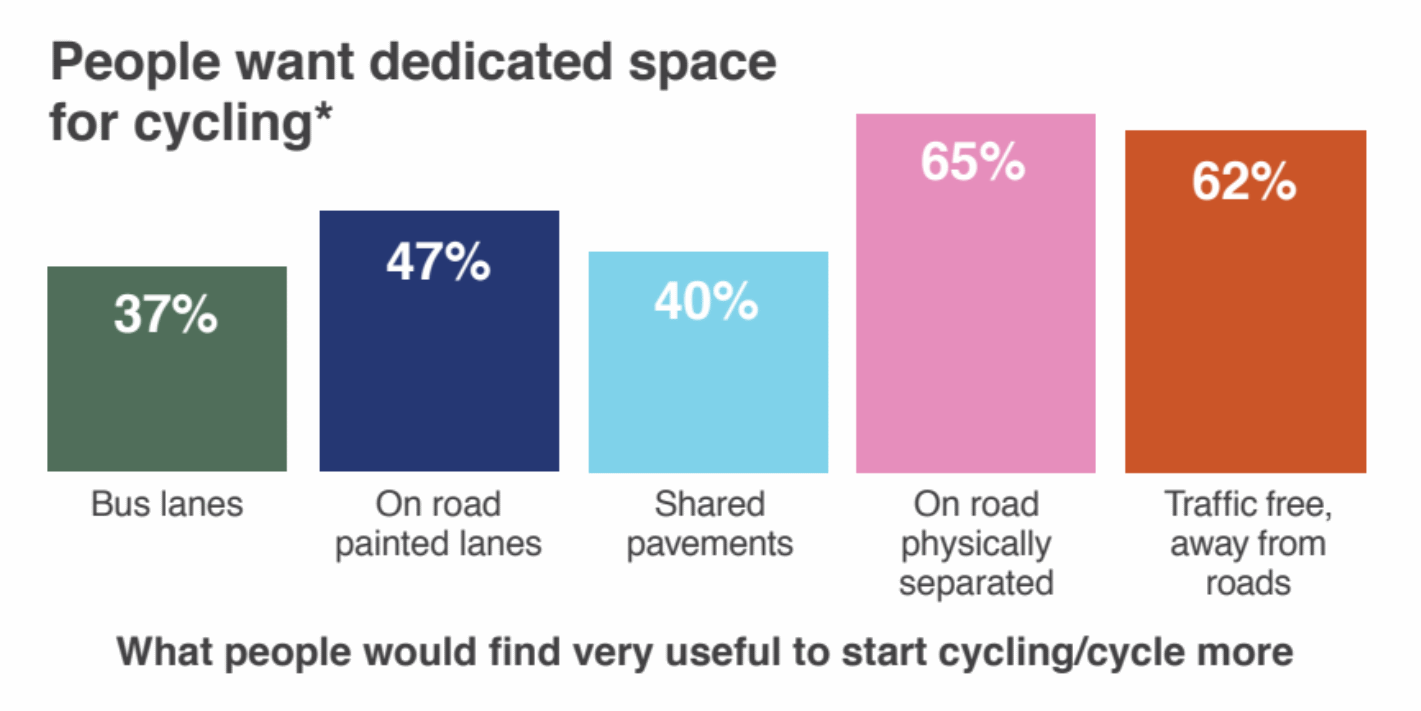 On road physically separated cycling space is what should have dominated the draft Belfast Bicycle Network Plan, but cars got to keep the main roads.
One problem is, the Cycling Unit within DfI is not where the power lies. Those who have power see bus lanes as the future. It's the default position on the current plans for Belfast's Transport Hub, and a view horribly out-of-time and out-of-step with public opinion.
Shamefully (and this is straight from the horse's mouth) bus lanes are central to cycle planning within those two orgs (by those who matter)

— NI Greenways (@nigreenways) October 28, 2017
Will the convenience of bus lanes for planners of major road schemes continue to override the clear view of those who we need to cycle in great numbers – that bus lanes should not be viewed as a cycling intervention? Or shared pavements, while we're listening to tthe public?
What we need to focus on is the overall net benefit to society from getting many people out of their cars and onto bicycles:
82p per mile net benefit for each mile cycled instead of driven
Only from that point, and admitting that Bus Rapid Transit will only be capable of tackling a small portion of our city's chronic congestion, can cross-departmental leverage be brought to bear on investing in cycling as a priority.
The draft Belfast Bicycle Network Plan is mired in consultation limbo, with the Cycling Unit seemingly unable to see a way past a hard-bunkered departmental intransigence on cycling. That resistance means no arterial cycle routes, no chance of "more protected bike routes to make cycling safer, even when this could mean less space for other road traffic".
Why would anyone think @TheOrmeauRoad needs dedicated cycleways and cycling-protected junctions? Loopy nonsense.. pic.twitter.com/xLcebNY58k

— NI Greenways (@nigreenways) November 8, 2017
Bike Life 2017 Belfast is a great report, but it must not be used by DfI as a PR smokescreen to gloss over continuing under-investment in everyday cycling. It should be the wind that blows down the barriers to everyday cycling development in Belfast; barriers which really only exist within Clarence Court.